Diablo Valley Real Estate
There is a lot going on in the world right now and we won't pretend to know how things will turn out or affect the local real estate market over the next few months. In the meantime, this report will look at the most recent data available, though the impact of the wild volatility in the financial markets and the unfolding situation with the coronavirus has yet to show up in reliable statistics. Typically, the spring selling season is the most active of the year. 
One positive for real estate is that mortgage interest rates hit a historic low in early March, as illustrated below, and rates play a huge role in housing affordability. 
Listings Accepting Offers by Month 
Mortgage Interest Rates Hit Historic Low 

In some of the following charts, other cities outside Diablo Valley are included for either greater context, or to increase the statistical reliability of the data - generally speaking, higher numbers of sales make trend lines more reliable and less subject to meaningless fluctuations.
Short-Term & Long-Term Trends 
in Median Home Sales Prices
Home Values & Statistics by City 
Selected East Bay Market Indicators since 2009  
Diablo Valley Real Estate
January 2020 Report
This report focuses on the cities of Diablo Valley, but sometimes includes other nearby cities to provide greater context to the market.
----------
Generally speaking, after years of solid appreciation rates, annual 2019 Bay Area median home prices went down a little bit, went up a little bit or basically remained unchanged as compared to 2018. 
For 2020, economist Ken Rosen at UC Berkeley has said he expects the Bay Area median price to remain basically flat, within a general range of up or down 2% - in other words, similar to what happened last year. We can't predict the future, but that certainly doesn't sound unreasonable, and happily avoids the sensationalism of many other media-grabbing forecasts.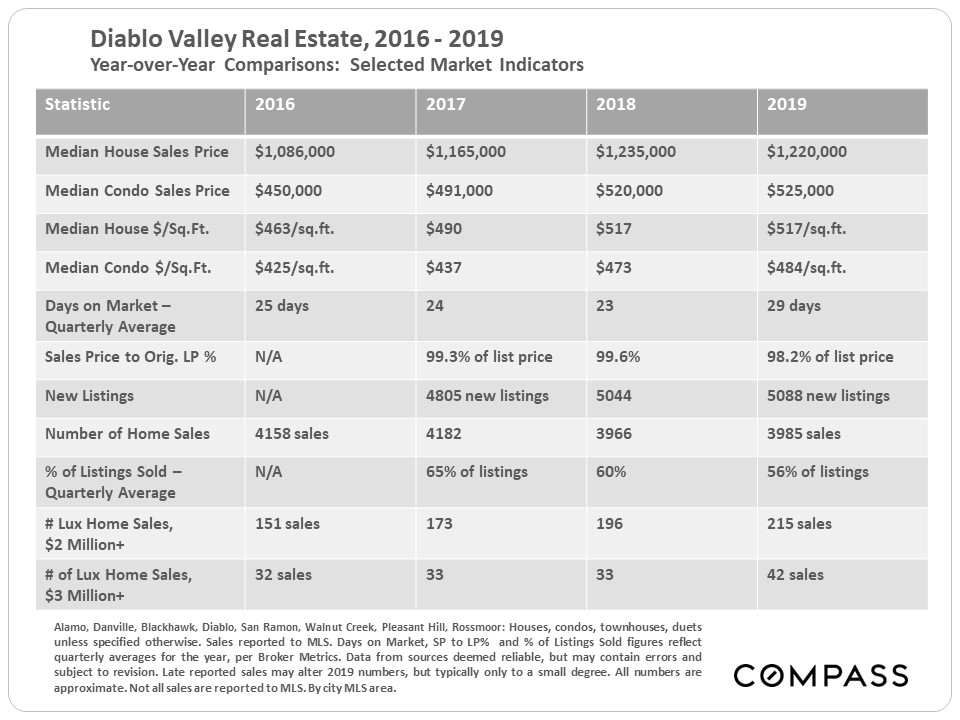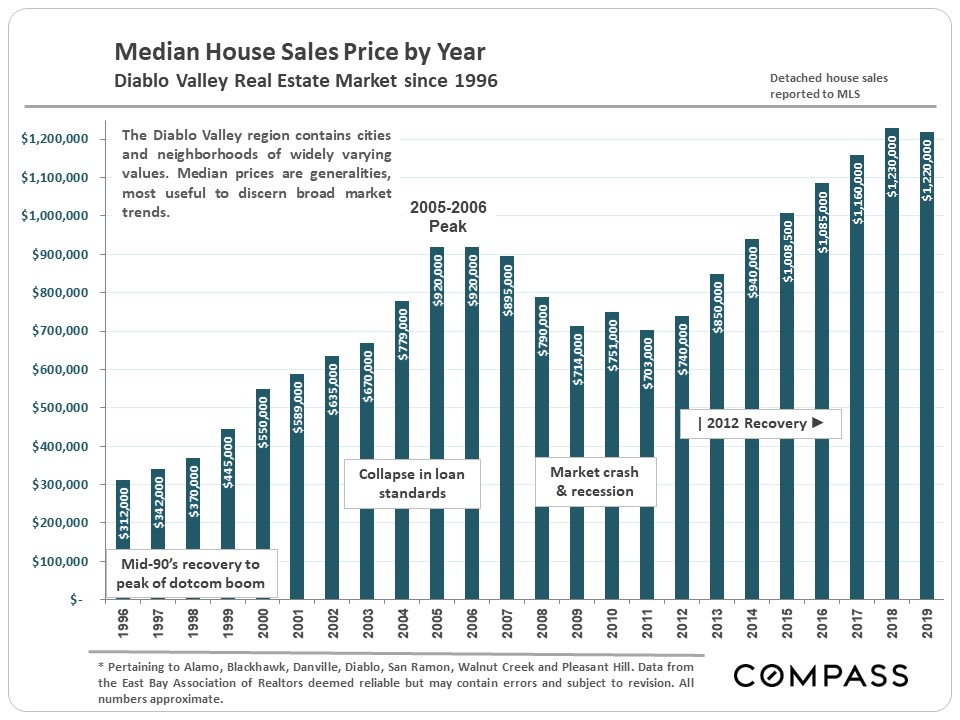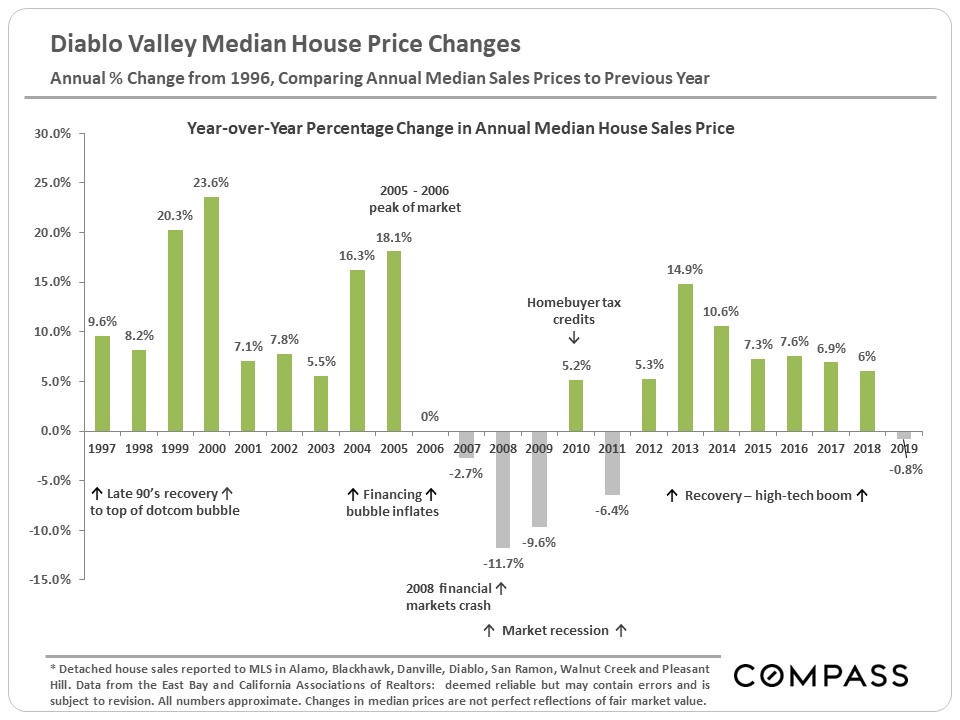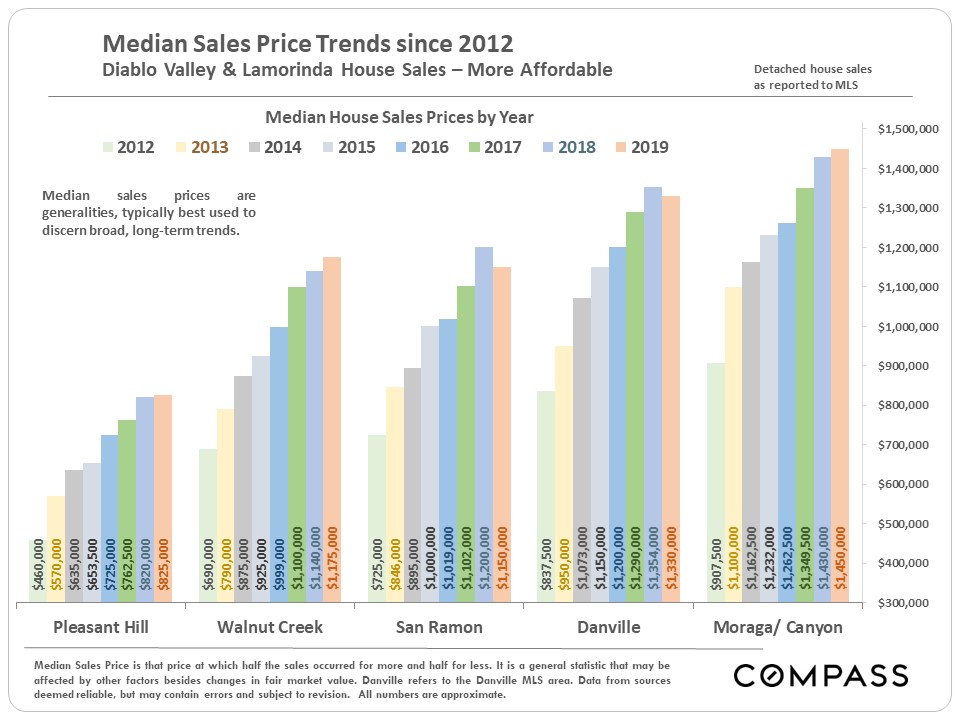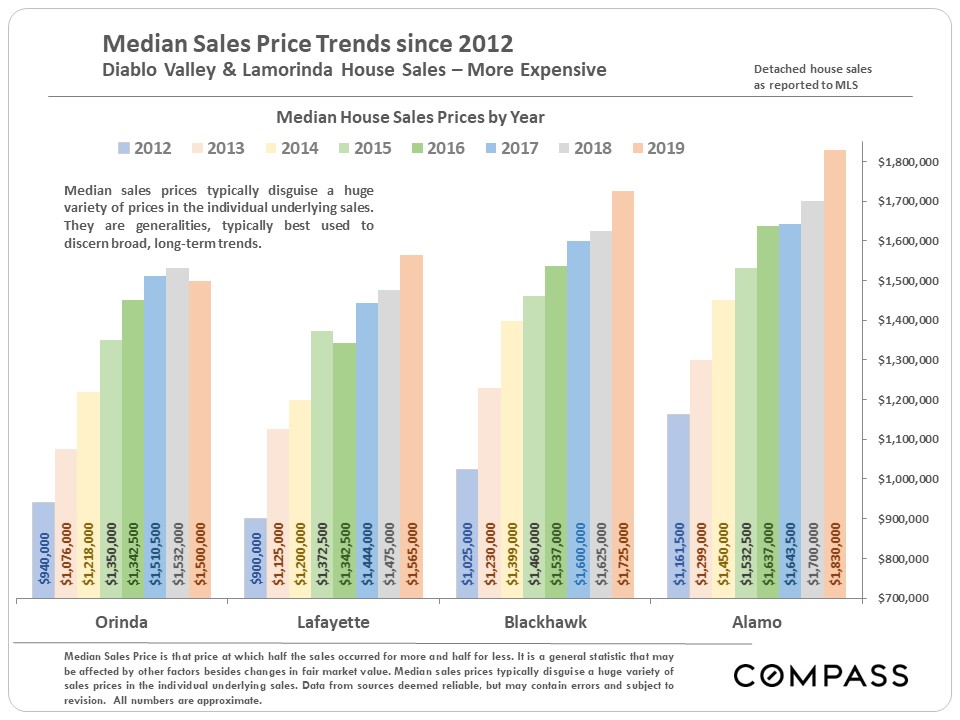 Median sales prices are generalities and not exact measurements of changes in fair market value. They can be affected by a number of factors and are sometimes subject to anomalous fluctuations. This is especially true of very expensive communities with relatively low numbers of sales, and very wide ranges of sales prices: Outsized year-over-year changes should be taken with a grain of salt until substantiated over the longer term.
How median prices apply to any particular home is unknown without a specific comparative market analysis.

Economic Factors Affecting Real Estate Markets 
Diablo Valley Real Estate
December 2019 Market Snapshots
Bay Area Median Home Prices

If Diablo Valley was a stand-alone county, its median home sales price would be somewhat higher than that of Santa Clara County, though, of course, median prices vary significantly between its component cities.
By number of sales, Contra Costa is one of the big 3 counties in the Bay Area. Diablo Valley and Lamorinda constitute the most affluent major markets in the county.
Bay Area Markets for Homes of $5 Million+
Diablo Valley is not one of the larger markets for homes selling for $5,000,000 and above, which is not due to any deficiency in the size or quality of its homes, or the affluence of its neighborhoods. It is simply due to the fact that one gets much more for one's dollar here than in SF or Silicon Valley. Its ultra-luxury homes and estates can sell at a 50% discount, or more, to the prices of similar homes in those markets.
Median Home Value Trends since 1996 by City 
This chart is an estimated calculation of median home price trends by an algorithm created for that purpose.  Neither Blackhawk nor Diablo is not broken out as a separate market by this data source. As always, these numbers should be considered very general approximations of prices in complex markets containing homes of widely varying size and quality.
Market Seasonality: New Listings 
The market is now deep into its seasonal plunge in activity, which hits its nadir in December. (This chart is updated through October. November saw its usual big drop in new listing activity.) 
Market Dynamics by City - 
Diablo Valley & Lamorinda
The next 4 charts comparing city statistics also include the 3 cities of Lamorinda for greater context of the affluent markets east of the East Bay ridge. As mentioned in previous reports, market dynamics throughout the Bay Area are often - but not always - separated by price segment as much as by city location. More expensive segments not unusually have somewhat softer supply and demand dynamics.
Diablo Valley Real Estate
Lamorinda & Diablo Valley 
Home Prices by City; Short-Term & Long-Term Appreciation Trends; Migration In & Out of the County; Price Reductions & Unsold Inventory
After the heat of the spring market, activity typically slows down in July and August. In September, new listings start coming on the market again to fuel the relatively short autumn selling season. What occurs in the next 2+ months, before the mid-winter holiday doldrums begin, will be the next major indicator of market conditions and direction.
Migration: People Moving In & Out 
Using new U.S. Census estimates released 8/29/19, this chart attempts to identify U.S. counties, states and international regions with the highest number of residents migrating to and from our county. In the Bay Area, there is a general trend outward from more expensive to more affordable places, while in-bound migration is deeply affected not only by exchanges between Bay Area counties, but people arriving from other parts of the state, country and world. Areas often have large two-way exchanges of residents, as between Contra Costa & Alameda Counties. 
Foreign in-migration is a huge issue in the Bay Area, but it will be another year before any impact of new U.S. immigration policy on foreign in-migration in 2018 shows up in census numbers.
Median Home Prices by City
Median House Sales Price Trends
Short-Term & Long-Term Trends 
Selected Market Indicators - 
Price reductions spiked at the end of last year and remain somewhat elevated.
The next chart measuring unsold inventory helps give greater context to market conditions and changes. The ups and downs since 2012 are relatively minor compared to the situation that prevailed during the 2008-2011 market recession.

Diablo Valley & Lamorinda 
Sales & Values by City, Price Segment & Lot Size; Market Seasonality; Luxury Home Sales; Market Dynamics by City; Foreign Homebuyers
The May Case-Shiller Home Price Index was released in late July for the 5-county SF metro area. This chart illustrates the difference in appreciation rates between the Bay Area (higher price markets) and the entire country. Case-Shiller does not use median sales prices but its own algorithm to calculate appreciation. January 2000 home price = 100; 250 = a home price 150% above that of Jan. 2000.
Number of Sales & Median Sales Prices
Needless to say, there are many factors behind home sales and values in different communities. Home size is one of them, and median sales prices are not apples to apples comparisons: For example, in the small community of Diablo, the median home square footage is over 4000, while in Walnut Creek, it is under 2100 square feet. Lot size also plays a big role in our markets, which is illustrated a little further down in this report.
Number of Listings & Median ASKING Prices
If the median ASKING price (below) in a community is well above the median SALES price (above), it is usually indicative of some disconnect between seller and buyer expectations regarding fair market value, and/or the supply of higher-priced listings simply outweighs demand for such homes in that city.
Sales, Prices & Home Sizes by Lot Size
In San Francisco, houses selling for $8 million and houses selling for $800,000 can both be found on lots under 1/8 of an acre. In our market (and also in the wine country), lot size is a major factor in home size and price. 
Listings and sales ebb and flow dramatically by season. In Diablo Valley and Lamorinda, the peak of activity - as measured by the number of listings going into contract - typically occurs in late spring. The relatively short autumn market - Labor Day to early November - is the last major selling season of the year before activity plunges in mid-November for the winter holiday period.
Market Statistics & Indicators by City
A few things should be kept in mind regarding the next 3 charts: Firstly, in or within communities of similar quality, a smaller home will typically sell for a higher dollar per square foot value. As an example, the median size of a home in Lafayette is about 28% smaller than in Alamo. Secondly, it is not unusual for higher price markets to have softer buyer-demand dynamics than more affordable areas, though this is not always the case. And thirdly, Q2 is commonly the strongest market of the year, and its statistics reflect that heat.
Foreign National Home Buying Tumbles
According to a new report by the National Association of Realtors - based on a survey of its members - the purchase of U.S. homes by foreign nationals plunged in the 12 months through March 2019. 
California, and the Bay Area in particular, have been top destinations for international homebuyers in recent years.
Stock Market Hits New High
The last 12 months have been an extremely dramatic time for financial markets as illustrated below. The confidence or fear generated by its swings has been a considerable factor in real estate markets. A parallel dynamic has occurred with the swings in interest rates.

Market Indicators by Price Segment
In recent years, within counties around the Bay Area, the heat of buyer demand has often been as strongly correlated with price segment as by the location of the home in a specific city or town.
.
The Diablo Valley & Lamorinda Real Estate Markets
Stock markets hit new peaks and interest rates hit multi-year lows. The market had its typical spring bounce in demand, but generally speaking, remained cooler than it was in the first half of 2018. Year-over-year home-price appreciation has basically disappeared for the time being, with prices stabilizing, more or less, at last year's peak levels. However, luxury home sales hit a new high in Q2.
The overall median house sales price for the region is very slightly lower - a difference not statistically significant - than the peak price reached in Q2 2018.
This chart below looks at median home price changes in 3 area market segments by price range - markets that have relatively substantial numbers of sales on a quarterly basis. As one can see, they all fluctuate up and down quarterly, sometimes significantly, but have relatively parallel trend lines since 2015. (It is true that the Lafayette and Orinda markets are not the exact same, nor are the Walnut Creek and San Ramon markets, but their home values, appreciation rates, and general market statistics are typically very similar.)
Longer term trends are much more meaningful than short-term fluctuations in median sales prices.

Home Sales by Property Type & Bedroom Count
Average Dollar per Square Foot Analyses
Median sales prices and average dollar per square foot values don't necessarily move in lock step. If the median size of homes sold during a particular quarter goes down, then median sales prices will typically decline, but average dollar per square foot values will usually increase. And vice versa. All things being equal, smaller homes generally sell at a higher dollar per square foot. It is worth remembering that averages and medians are gross generalities bundling together an enormous variety of home sales.
Sales of homes selling for $2 million and above hit a new peak in sales volume in Q2, but in the $3 million+ segment, sales are a little below highs reached in 2018.
Selected Supply & Demand Statistics
After peaking during the big spring selling season, sales typically gradually decline toward the nadir in activity seen during the mid-winter holiday period.

Overpricing: Negative Effects for Sellers 
& Opportunities for Buyers
We performed longer-term analyses of the effects of overpricing - as indicated by the need for price reductions before the property sold - on every major market in the Bay Area and the results were uniformly similar. As would be expected, there were dramatic differences in the sales price to list price percentage and time on market before sale. But there were also very substantial differences in the average dollar per square value realized upon sale. 
So, overpricing lowers values for sellers - even in very hot markets - which also signifies opportunities for buyers who keep an eye out for price reductions and react accordingly.
Mortgage Interest Rate Trends
We not only mapped Bay Area median house sales prices, but ranked them, lowest to highest. What stands out is what excellent values homes in Diablo Valley and Lamorinda are, when compared to neighborhoods and communities of similar quality in San Francisco, San Mateo and Santa Clara Counties. If interested, click on the button link below: The ranking list can be found below the map.

Diablo Valley & Lamorinda 
Real Estate Markets
Spring Market Dynamics Somewhat Cooler Than Spring 2018; Median Home Prices Stable; Luxury Home Sales Hit New Monthly Highs
Long-Term Median Home Price Trends
Short-Term Median Home Price Trends
Year-over-Year Comparison of Market Statistics
This table and the charts further below of selected market indicators illustrate some cooling as compared to the very hot market of spring 2018, but generally speaking, many of the recent statistics would still be considered to indicate a high-demand/ low inventory market. For example, the days-on-market and months-supply-of-inventory figures are quite low by long-term standards. And luxury home sales actually increased this spring - as they also did in San Francisco and San Mateo Counties.
Luxury Home Sales, $2,000,000+
April and May 2019 saw slightly higher sales volumes of homes selling for $2m+ than the previous peak in May 2018. However, as seen in the table above, the number of homes selling for $3m+ this spring declined year-over-year. Not too much should be made of short-term statistics.

Median Home Price Changes by City
Comparing annual median home prices to partial year prices is not really an apples-to-apples comparison because of the effect of market seasonality - and especially ebbs and flows in luxury home sales - on sales prices, but the below analysis is interesting. Some cities are slightly down, some slightly up, some basically unchanged - and a few of the more expensive communities have seen unusually large year-to-date jumps. These abnormal spikes in prices should not be taken as definitive indicators of changes in fair market values until substantiated over a longer term. 
Full-year 2019 median home prices may be significantly different than the year-to-date figures.
Median House Sales Prices by City 
& Bedroom Count
Click on the button-link below to go to our updated map of Bay Area median house prices.
Selected Market Indicators
These next two charts give more historical context to trends and are excellent illustrations of the effect of seasonality on the market. Typically, the market will begin to slow down for summer in June.
Selected Economic & Demographic Snapshots
This chart below illustrates unemployment rates through January 2019, but rates have dropped even further through April. They are very, very low around the Bay Area - in some cases, the lowest rates ever.
It is probably safe to assume that the affordability percentage for our market area is similar to that of affluent, high-home-price counties like Marin, San Francisco, Santa Clara and San Mateo - which in Q1 2019 ran 17% to 21% (of households able to purchase a median priced house). Affordability percentages actually ticked up in Q1 due to interest rates declines and, in some markets such as Santa Clara and Sonoma Counties, drops in median home sales prices. But the Bay Area still has some of the lowest affordability rates in the state and country.
Bay Area Household Size & Median Age
Diablo Valley & Lamorinda 
Real Estate
With April's end, we now have 2 months of spring data unaffected by market activity at the end of 2018, when financial markets plunged. As of early May 2019, stock markets have recovered to hit new highs, interest rates are far lower than last year's peak, and the region's median house sales price has climbed back up to slightly exceed last year's high. 
However, by most parameters, the 2019 market is somewhat cooler than that of spring 2018, and no substantial year-over-year appreciation has occurred, as was typical in previous spring markets since 2012. This is a common dynamic around the Bay Area, and indeed, other markets have often cooled more dramatically, with median price declines.
There are still 2 more months of spring selling season data to come in.
Monthly Median House Sales Price - 2 Years
The considerable jump in median house sales price from spring 2017 to spring 2018, a very strong market, is illustrated below, as well as the year-over-year stability, spring 2018 to spring 2019. (Mid-winter declines are common, more an indication of seasonality than anything else.)
This table compares the March-April market statistics of 2018 and 2019. Generally speaking, there are some indications of softening in the supply and demand dynamic, but many of the changes are relatively minor. Median and average house values actually ticked up a tiny bit (but not to a statistically significant degree).
Full data for Q2, April through June, will be a more definitive indicator of market trends.
Home Sales by Price Segment & Bedroom Count
An illustration of the last 12 months of house and condo sales broken out by price range and number of bedrooms. These sales are spread across a wide variety of very different city markets within the region.
House Sales Volumes, Prices & Sizes
The next chart breaks out the number of detached house sales over the past 12 months by city, with median house sales prices, median square footage, and median bedroom/ bathroom count. (Median means half the sales were for more, or larger size, and half for less, or smaller size.) In most Bay Area markets, the median bedroom/ bathroom count is 3BR/2BA, but in Diablo Valley-Lamorinda, Pleasant Hill is the only city with a median of less than 4 bedrooms.
The community of Diablo usually features the largest houses and the highest median sales prices, but it is a tiny market.
Condo Sales Volumes, Prices and Sizes
We typically define luxury homes here as those selling for $2 million+, and it constitutes a dynamic market segment in a very affluent region.
Q1 2019 "Ultra-Luxury" Home Sales
The softest segment of the market is the highest priced - $3 million+ - where the pool of potential buyers is smallest. In the 1st quarter, the inventory of listings was relatively high compared to demand, and for every 2 listings that sold or went into contract, 1 listing expired  without selling. 
The second quarter is typically the most active of the year for high-end home sales.
Home Size & Era of Construction
Many factors influence home construction size during any particular period: Affluence, economic conditions, household size, buyer age, land costs, population growth, bridge and highway construction, natural disasters, etc. Generally speaking, the median size of houses built earlier in the 20th century was somewhat larger than those built during the mid-century period - during and right after WWII.  When the population and housing construction started to soar in the 1960's, median home size began to rapidly increase until, currently, it is larger than ever. This bigger-house dynamic is common around the Bay Area.
Over recent decades, condos have become the major alternative for people purchasing homes of smaller size.

Selected Demographic & Economic Factors
The chart below graphs annual county population increases since 2010 through mid-2018, per new census figures: Steady, but slowing somewhat in the last 2 years. 
Measuring Bay Area population gains since 2010, Contra Costa ranks 3rd by both numeric increase (behind Alameda and Santa Clara), and by percentage increase - 9.6% (behind SF at 9.7% and Alameda at 10.4%). As a point of reference, 1940 to 1950, the county's population increased by almost 200% - and it kept jumping dramatically for decades after.

Not exactly the rankings we would prefer, but Contra Costa ranks 1st of Bay Area counties for longest, average 1-way commute, highest percentage of residents with 1-way commutes of 60 minutes or longer, and the highest percentage who work outside their county of residence. On the plus side, CC residents carpool the most, excepting only those in Solano County.
Venture Capital Investment
In recent years, the Bay Area has been the biggest destination of venture capital investment dollars in the country - and probably the world. These tens of billions of dollars have constituted a massive factor in the local economy, supercharging the creation of new companies, hiring, and, eventually, IPOs. Effectively, venture capital is seed money that in the last decade has exploded into the creation of stupendous amounts of new wealth.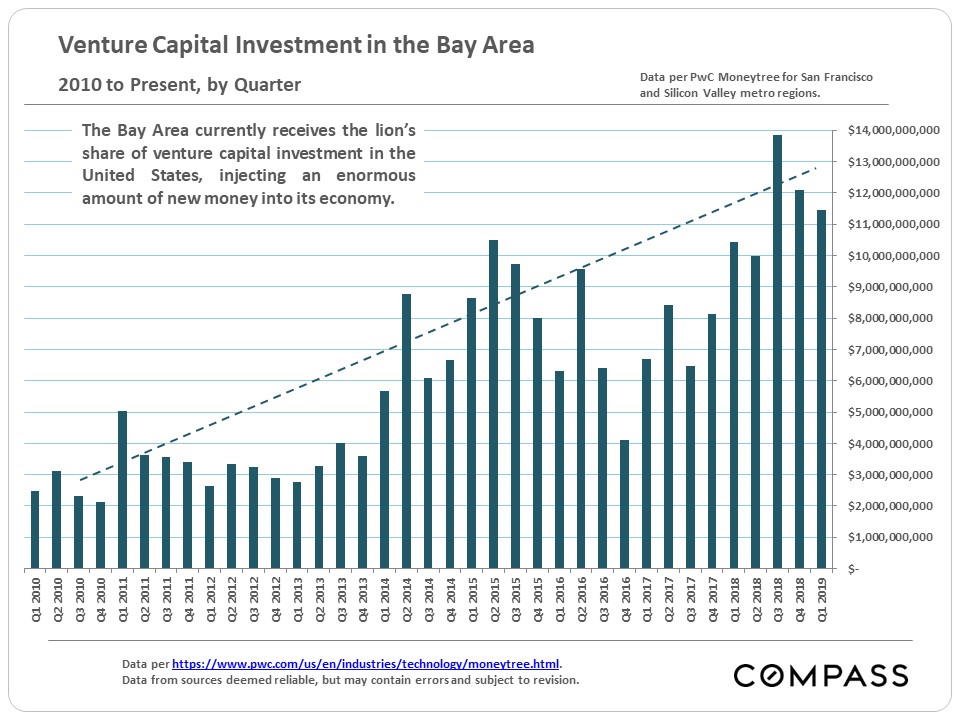 It is impossible to know how median and average value statistics apply to any particular home without a specific comparative market analysis.
These analyses were made in good faith with data from sources deemed reliable, but may contain errors and are subject to revision. It is not our intent to convince you of a particular position, but to attempt to provide straightforward data and analysis, so you can make your own informed decisions. Median and average statistics are enormous generalities: There are hundreds of different markets in San Francisco and the Bay Area, each with its own unique dynamics. Median prices and average dollar per square foot values can be and often are affected by other factors besides changes in fair market value. Longer term trends are much more meaningful than short-term. 
Compass is a real estate broker licensed by the State of California, DRE 01527235. Equal Housing Opportunity. This report has been prepared solely for information purposes. The information herein is based on or derived from information generally available to the public and/or from sources believed to be reliable. No representation or warranty can be given with respect to the accuracy or completeness of the information. Compass disclaims any and all liability relating to this report, including without limitation any express or implied representations or warranties for statements contained in, and omissions from, the report. Nothing contained herein is intended to be or should be read as any regulatory, legal, tax, accounting or other advice and Compass does not provide such advice. All opinions are subject to change without notice. Compass makes no representation regarding the accuracy of any statements regarding any references to the laws, statutes or regulations of any state are those of the author(s). Past performance is no guarantee of future results.