Supply & demand statistics, sales and values by city, the luxury home market, and the dwindling effects of COVID-19 
Depending on the statistic, analyses will reflect Napa County alone or the combined markets of Napa and Sonoma Counties. Generally speaking, market activity – as measured by the number of listings going into contract – continued to pick up rapidly in May, bouncing back from the steep plunge following the first shelter in place orders. However, activity in May, which is typically among the busiest selling months of the year, remained below May 2019. Still, with the easing of shelter in place, as well as the market learning to adjust to new circumstances, it is expected the recovery will continue to surge closer to normal. In fact, based on the strength of buyer demand, some analysts believe the coming months may be busier than in 2019, as sales activity that would have occurred in spring gets pushed into summer instead. 

The Napa County median house sales price dropped in May 2020, but it is based on a very low number of sales across a very wide range of sales prices, so should not be taken too seriously unless substantiated over the longer term. 
Interest rates hit another historic low at the end of May.
Note: Any statistics derived from closed sales – such as median sales prices, sales volume and days on market – reflect the state of the market 3-6 weeks ago when the offers were negotiated and accepted. They are lagging indicators, and May closed-sales data to a large degree reflects the much weaker market in April. 
Napa Real Estate Market Begins 
There is a lot going on in the world right now and we won't pretend to know how things will turn out or affect the local real estate market over the next few months. In the meantime, this report will look at the most recent data available, though the impact of the wild volatility in the financial markets and the unfolding situation with the coronavirus has yet to show up in reliable statistics. Typically, the spring selling season is the most active of the year. 
One positive for real estate is that mortgage interest rates hit a historic low in early March, as illustrated below, and rates play a huge role in housing affordability. 
Long-Term Trends in Median Home Prices
Mortgage Interest Rates Hit Historic Low 

Home Values & Statistics by City 
in Napa & Sonoma Counties 
Selected Market Indicators 
The first 2 of the next 4 charts illustrate both market trends and the large role of seasonality in supply and demand. 
Generally speaking, after years of high appreciation rates, annual 2019 Bay Area median home prices went down a little bit, went up a little bit or basically remained unchanged as compared to 2018. 
For 2020, economist Ken Rosen at UC Berkeley has said he expects the Bay Area median price to remain basically flat, within a general range of up or down 2% - in other words, similar to what happened last year. We can't predict the future, but that certainly doesn't sound unreasonable, and happily avoids the sensationalism of many other media-grabbing forecasts.
In this report, some Sonoma County cities are included in the city stats for further context to the greater Wine Country market.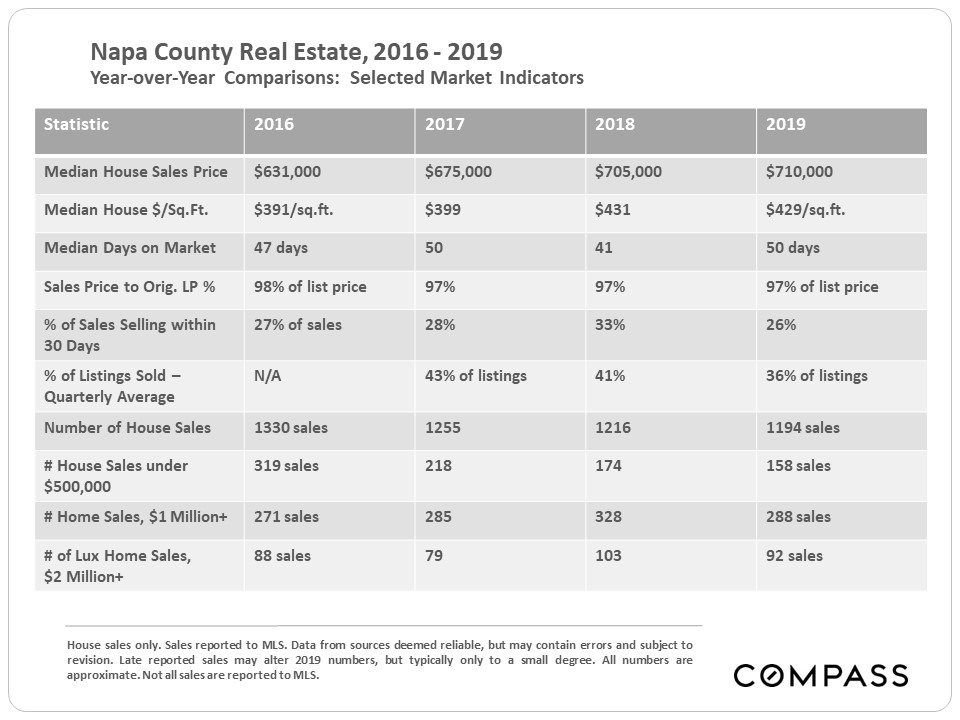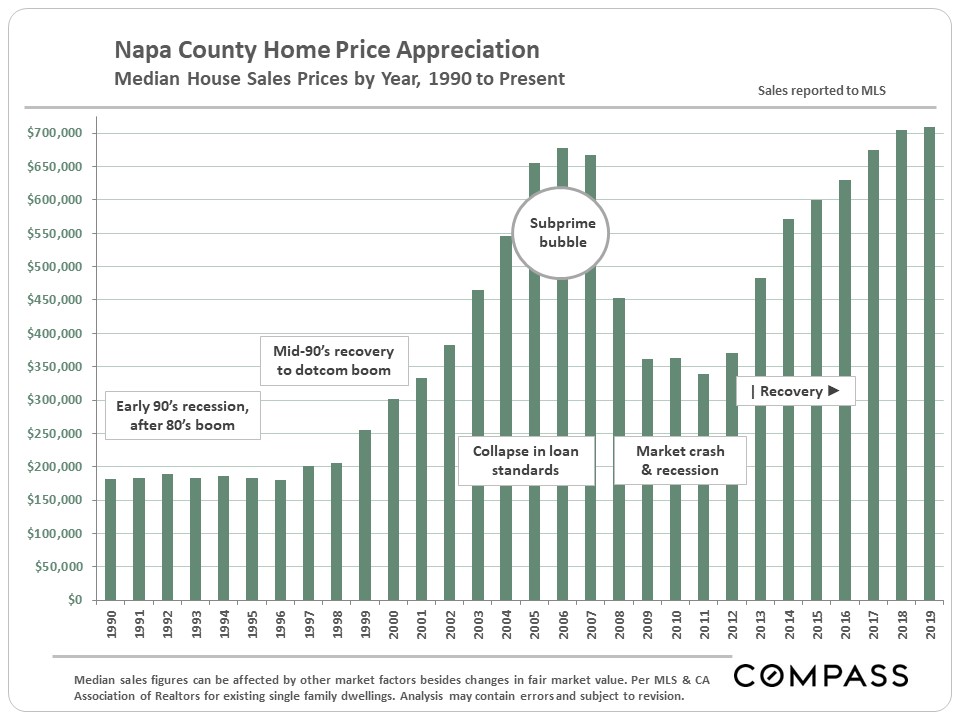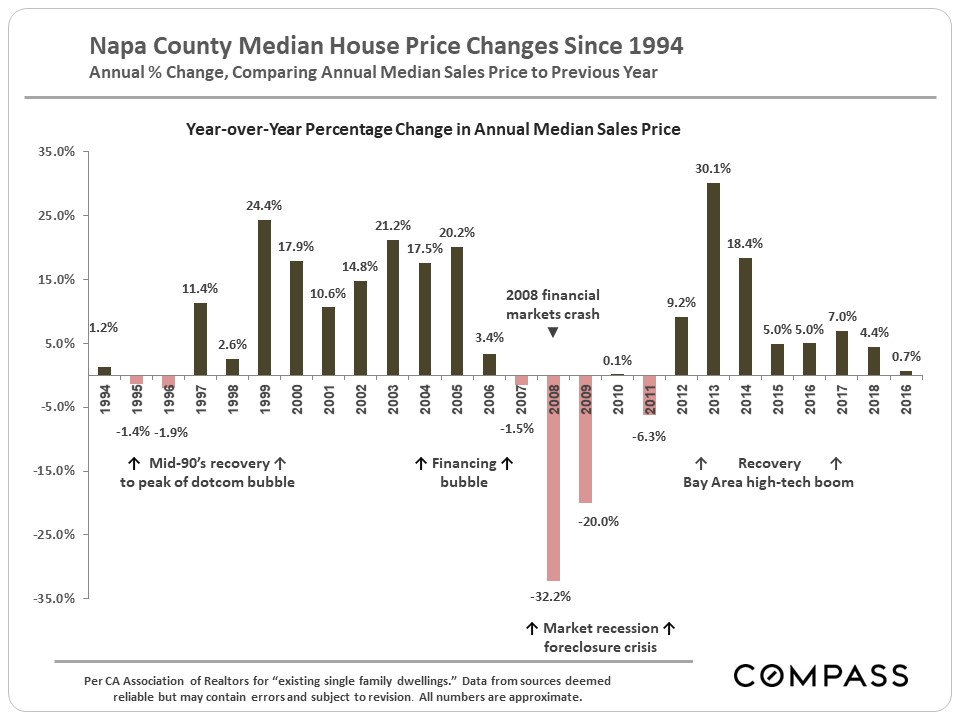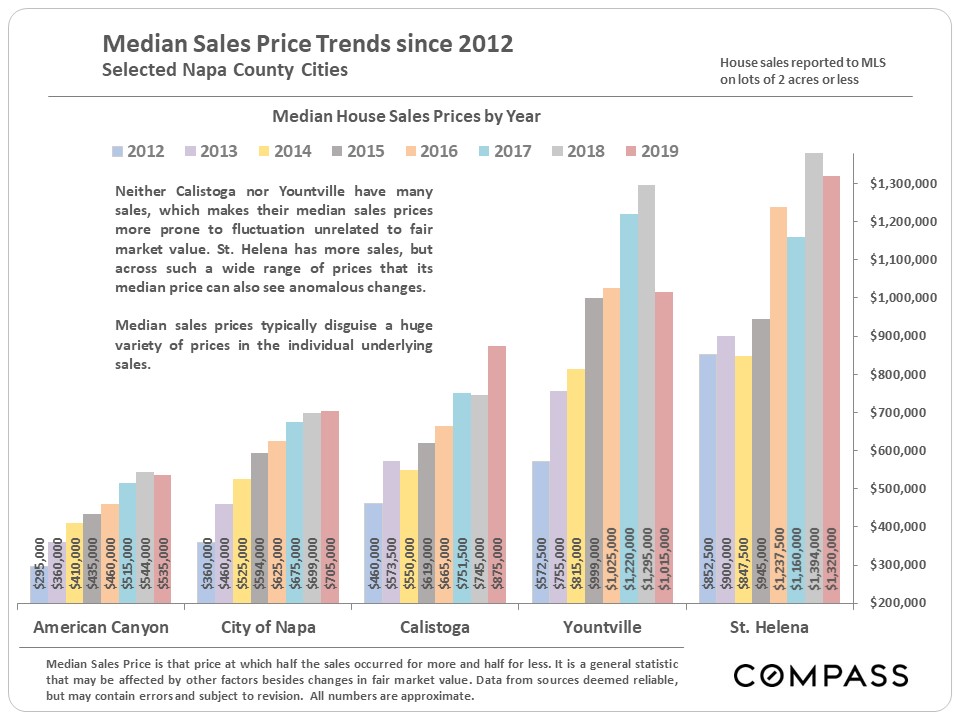 Median sales prices are generalities and not exact measurements of changes in fair market value. They can be affected by a number of factors and are sometimes subject to anomalous fluctuations. How they apply to any particular home is unknown without a specific comparative market analysis.
Napa County is challenging as regards to city median home prices: It only has 3 cities with a relatively substantial number of sales (Napa, American Canyon, St. Helena), and of those, St. Helena - with the fewest sales of the 3 - has such a huge range of sales prices that its median price often fluctuates simply due to what homes sold in a given period.
Economic Factors Affecting 
December 2019 Market Snapshots
Bay Area Median Home Prices
Bay Area County Market Size
By number of annual sales, Napa County is the smallest county market in the Bay Area.
Market Seasonality: New Listings 
The market is now deep into its seasonal plunge in activity, which hits its nadir in December. (This chart is updated through October. November saw its usual big drop in new listing activity.)

Bay Area Markets for Homes of $5 Million+
This chart compares the number of $5m+ listings in MLS in October 2019 to the total number of $5m+ sales reported to MLS in the 12 months through October. For a county market of its size, Napa's numbers are high. The number of active listings is running very high.
Median Home Price Trends since 1996
This chart is an estimated calculation of median home price trends by an algorithm created for that purpose. Long-term St. Helena data is not available from this data source - though its median prices are typically the highest in Napa and Sonoma Counties. As always, these numbers should be considered very general approximations of prices in markets often containing homes of widely varying size and quality. Many Napa County markets are very small, which always makes these calculations more prone to anomalous fluctuations. 

Median Dollar per Square Foot Values
Selected Market Indicators
The following 6 charts review supply and demand dynamics from a variety of angles - by county and by city. In the comparative city statistics, a number of factors are at play, including location, of course, general price range, and the size of the second-home market.