The San Francisco 2-4 Unit Multi-Family Market
An interesting 2019 so far: Stock markets have hit new peaks; interest rates hit multi-year lows; the SF unemployment rate dropped to a historic low; Bay Area unicorn IPOs have rolled out one after the other; SF residential and office rents have ticked up; and SF median house and condo prices hit new peaks in Q2.

In the 2-4 unit market, as seen below, some of the market indicators were somewhat mixed, but overall, SF saw a strong spring market.
Though this report focuses primarily on San Francisco's 2-4 residential unit market, it will sometimes pull in data from other Bay Area counties to add further context.
Sales Breakdown by Number of Units
Sales Breakdown by Building Square Footage
Annual Trends in Values 
with Year-to-Date Updates
Partial year data should be considered preliminary until full year data is in.
Legislative Update - New Limitations on Selling 3+ Unit Residential Buildings
SF has enacted a new law called the Community Opportunity to Purchase Act (COPA) impacting Sellers listing or selling buildings with 3+ residential units and lots zoned for 3+ units. It is designed to provide certain "Qualified Nonprofit Organizations" (QNOs) preemptive opportunities to purchase such properties. AS of 9/3/19, Sellers of such properties will have to provide formal notice to these organizations of their decision to sell before they solicit offers or place such properties on the market.
COPA applies to SF multi-family residential buildings on which (1) 3+ residential units exist, including mixed use properties; (2) lots on which 3+ residential units are under construction; and (3) vacant lots on which 3+ residential units could be built. By September 3, 2019, the Mayor's Office of Housing and Community Development plans to publish the list of QNOs and to issued rules pertinent to implementing COPA. Buyers and sellers having any questions should consult a qualified San Francisco real estate attorney. Your agent can provide you with a more detailed outline and list of FAQs which the SF Association of Realtors has created.
Selected Supply & Demand Statistics
Average & Median Rent Rate Statistics
Long-Term Trends in Mortgage Interest Rates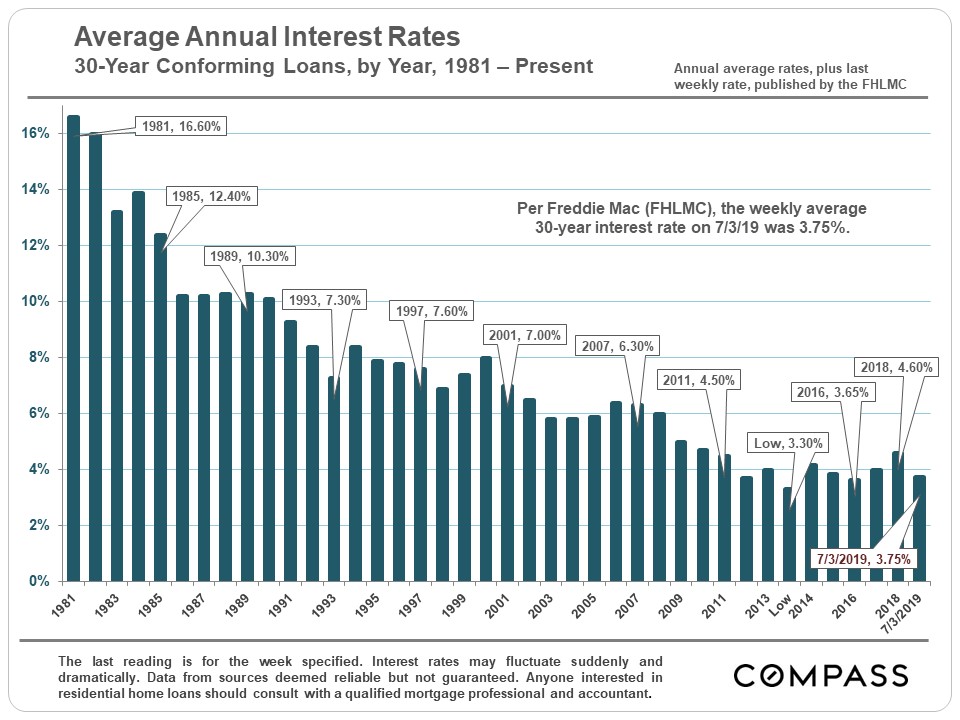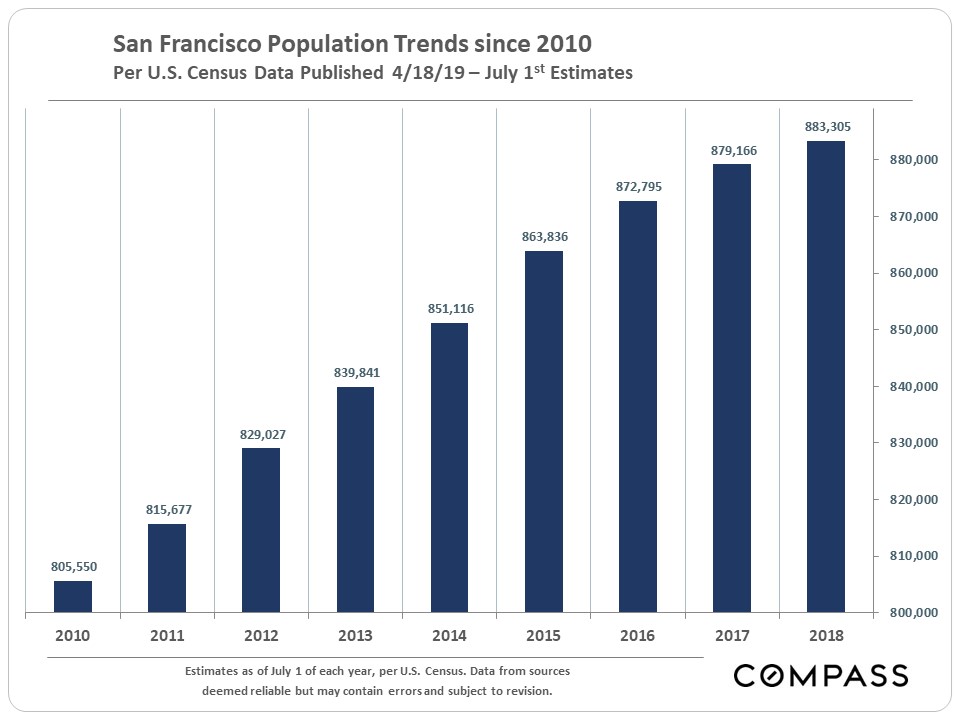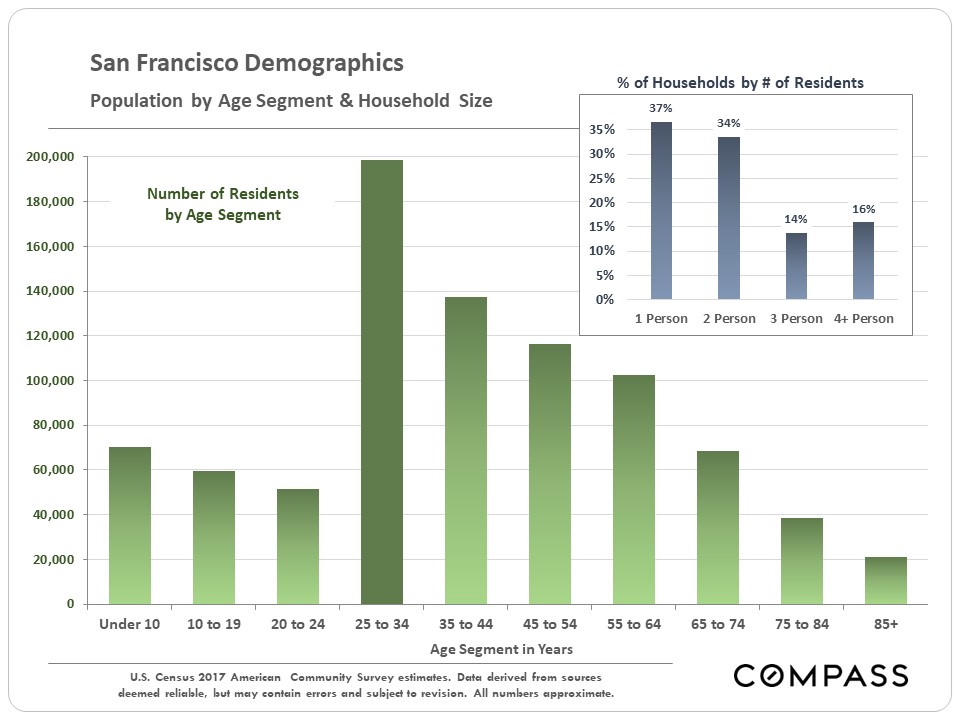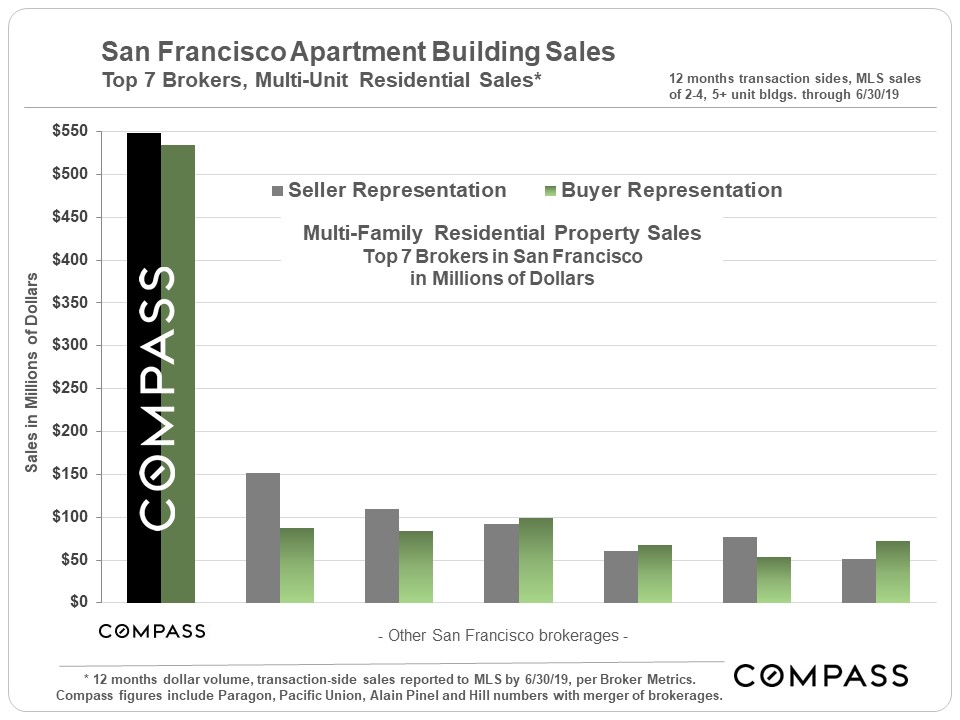 It is impossible to know how median and average statistics apply to any particular property without a specific comparative market analysis.
These analyses were made in good faith with data from sources deemed reliable, but may contain errors and are subject to revision. It is not our intent to convince you of a particular position, but to attempt to provide straightforward data and analysis, so you can make your own informed decisions. Median and average statistics are enormous generalities: There are hundreds of different markets in San Francisco and the Bay Area, each with its own unique dynamics. Median prices and average dollar per square foot values can be and often are affected by other factors besides changes in fair market value. Longer term trends are much more meaningful than short-term. 
Compass is a real estate broker licensed by the State of California, DRE 01527235. Equal Housing Opportunity. This report has been prepared solely for information purposes. The information herein is based on or derived from information generally available to the public and/or from sources believed to be reliable. No representation or warranty can be given with respect to the accuracy or completeness of the information. Compass disclaims any and all liability relating to this report, including without limitation any express or implied representations or warranties for statements contained in, and omissions from, the report. Nothing contained herein is intended to be or should be read as any regulatory, legal, tax, accounting or other advice and Compass does not provide such advice. All opinions are subject to change without notice. Compass makes no representation regarding the accuracy of any statements regarding any references to the laws, statutes or regulations of any state are those of the author(s). Past performance is no guarantee of future results.