San Francisco Real Estate Market  Rebounds Dramatically 
Median house sales price hits new monthly high
Despite the ongoing health and economic crisis precipitated by COVID-19, the SF real estate market made a large recovery from the steep declines in March and April. The SF median house price hit a new monthly high in June ($1,800,000), and high-end houses, in particular, have seen very strong demand – this applies to virtually every market in the Bay Area. More affluent buyers - the demographic least affected by COVID-19, unemployment, and also having the greatest financial resources - have been jumping back into the market to a greater degree than other segments. 
The condo market has been weaker than the house market, as measured by both supply and demand metrics and median sales price. It may be that prospective condo buyers - often younger and less affluent than house owners - have been more affected by the huge jump in unemployment. 
The first chart below illustrates the big rebound in buyer demand, as the number of listings accepting offers in June 2020 rose slightly higher on a year-over-year basis. Of course, closed-sales volume - a lagging indicator - was hammered in Q2 by shelter in place.

High-end sales staged a particularly strong recovery,  reaching a new high as a percentage of total sales. This is one of the factors behind median house sales prices hitting a new peak in June.
As illustrated below, the house market (blue line) has performed much better than the condo market (purple line). 
Three angles on median home sales price movements - annual, monthly and quarterly. While the median house price has hit a new peak, the median condo price has declined from its 2019 high. 
Average days on market remained relatively low in Q2, though higher than Q2 in 2018 and 2019. 
The average overbidding percentage declined to zero in Q2 as showing procedures and the offer-making process have been severely affected by shelter in place. 
The Bay Area markets with the largest year-over-year increases in the number of listings accepting offers in June 2020 were the 4 outer Bay Area counties of Monterey (up 61%), Santa Cruz (58%), Sonoma (47%) and Napa (37%). They also have among the lowest population densities in the Bay Area. The more urban counties saw more modest y-o-y increases: San Francisco (6%) and Alameda (7%). Other factors may play a role in this: length/strictness of shelter-in-place rules, home price differences, second-home buying patterns, and so on. 
San Francisco Real Estate Market Begins to Slowly Recover
San Francisco Real Estate
There is a lot going on in the world right now and we won't pretend to know how things will turn out or affect the local real estate market over the next few months. In the meantime, this report will look at the most recent data available, though the impact of the wild volatility in the financial markets and the unfolding situation with the coronavirus has yet to show up in reliable statistics. Typically, the spring selling season is the most active of the year.
One positive for real estate is that mortgage interest rates hit a historic low in early March, as illustrated below, and rates play a huge role in housing affordability.
Short-Term & Long-Term Trends
in Median Home Sales Prices
Median Dollar per Square Foot Values
Mortgage Interest Rates Hit New All-Time Low
Listing Inventory vs. Sales since 2005
Trends in Overbidding Asking Price
Overbidding remains common and at high levels for house listings in particular, however part of this is due strategic under-pricing on the part of listing agents. The supply and demand dynamic for condos has been affected over the last few years by new-condo inventory coming on market.
The Extreme Seasonality of Real Estate Markets
After the mid-winter doldrums, we would typically start seeing a huge jump in sales as the spring market gets underway. Remember that sales are about a month behind the market, i.e. sales in one month mostly reflect new listings and offers accepted in the previous month.
Home Sales & Values by San Francisco District
District Home Price Trends
There are 70+ neighborhoods in ten Realtor districts in San Francisco - too many to cover in one newsletter. Below are some representative snapshots, but we also have trend data on every neighborhood in the city, which can be supplied upon request.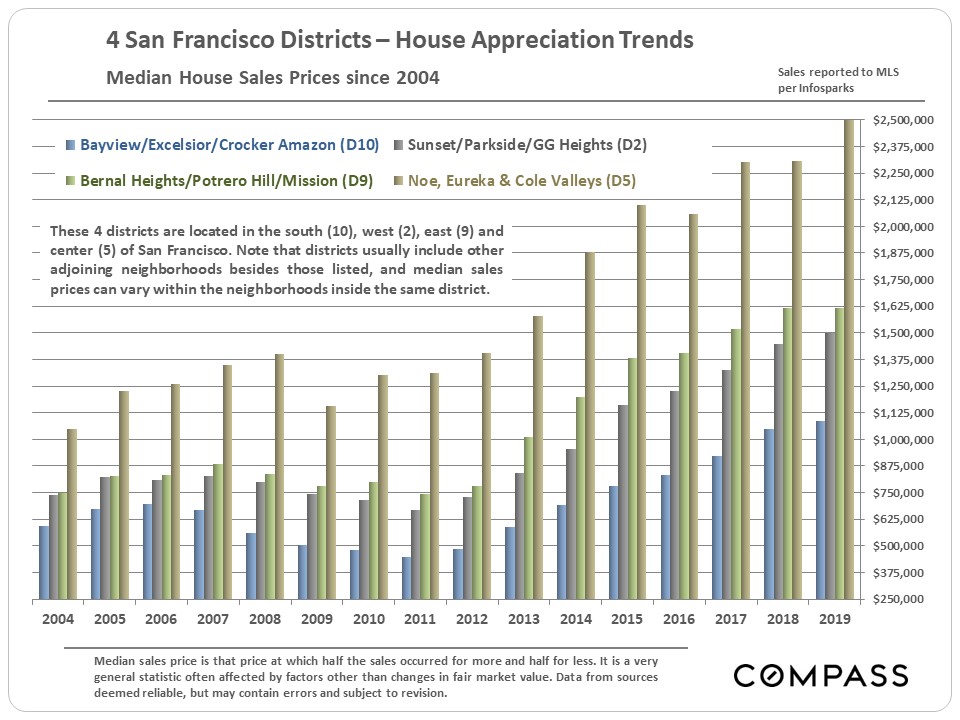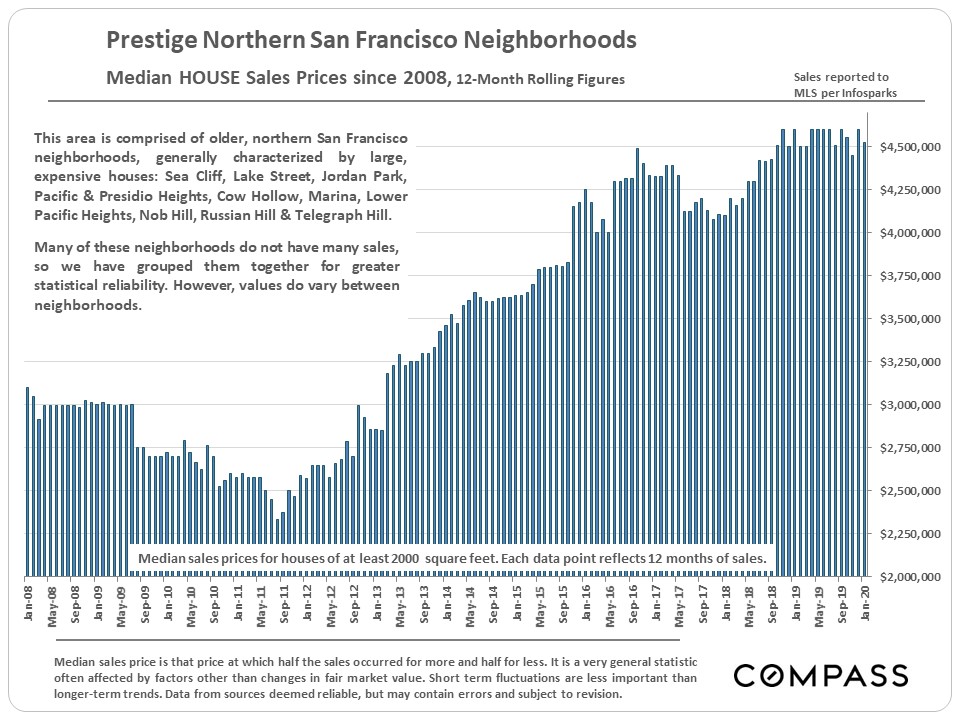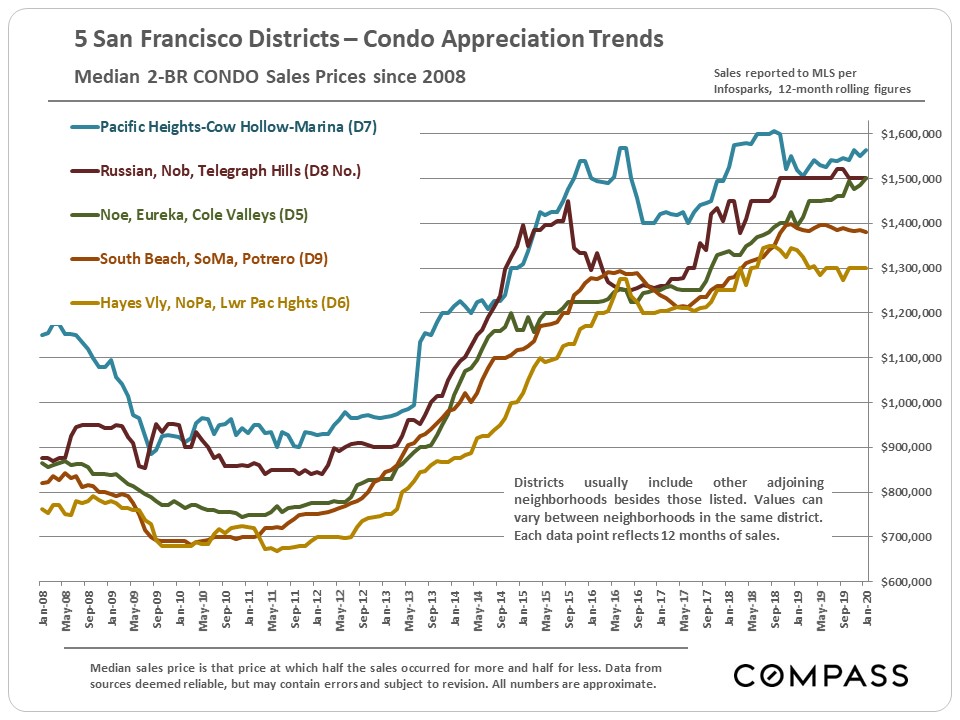 It is impossible to know how median and average value statistics apply to any particular home without a specific comparative market analysis.
These analyses were made in good faith with data from sources deemed reliable, but may contain errors and are subject to revision. It is not our intent to convince you of a particular position, but to attempt to provide straightforward data and analysis, so you can make your own informed decisions. Median and average statistics are enormous generalities: There are hundreds of different markets in San Francisco and the Bay Area, each with its own unique dynamics. Median prices and average dollar per square foot values can be and often are affected by other factors besides changes in fair market value. Longer term trends are much more meaningful than short-term.
Compass is a real estate broker licensed by the State of California, DRE 01527235. Equal Housing Opportunity. This report has been prepared solely for information purposes. The information herein is based on or derived from information generally available to the public and/or from sources believed to be reliable. No representation or warranty can be given with respect to the accuracy or completeness of the information. Compass disclaims any and all liability relating to this report, including without limitation any express or implied representations or warranties for statements contained in, and omissions from, the report. Nothing contained herein is intended to be or should be read as any regulatory, legal, tax, accounting or other advice and Compass does not provide such advice. All opinions are subject to change without notice. Compass makes no representation regarding the accuracy of any statements regarding any references to the laws, statutes or regulations of any state are those of the author(s). Past performance is no guarantee of future results.
San Francisco Real Estate
Generally speaking, after years of high appreciation rates, annual 2019 Bay Area median home prices went down a little bit, went up a little bit or basically remained unchanged as compared to 2018. SF hit new quarterly price highs in spring of 2019 (amid all the IPO excitement), but ended up the year at about flat for houses and a little up for condos. (Since there has been so much new luxury condo construction in recent years, year-over-year median price comparisons may not be exactly apples to apples.)
For 2020, economist Ken Rosen at UC Berkeley has said he expects the Bay Area median price to remain basically flat, within a general range of up or down 2% - in other words, similar to what happened last year. We can't predict the future, but that certainly doesn't sound unreasonable, and happily avoids the sensationalism of many other media-grabbing forecasts.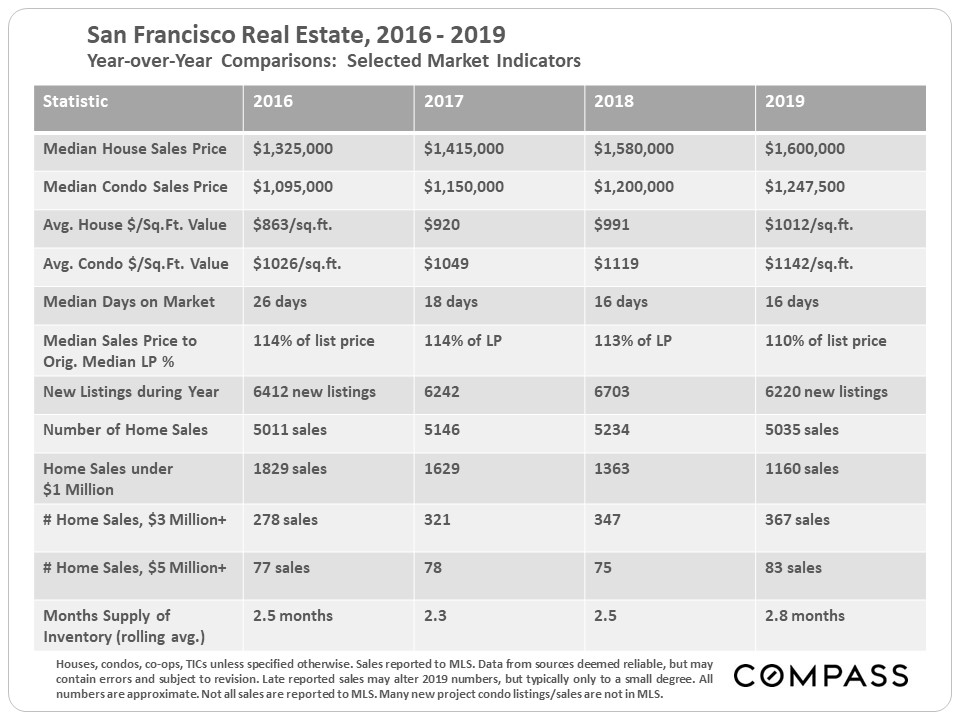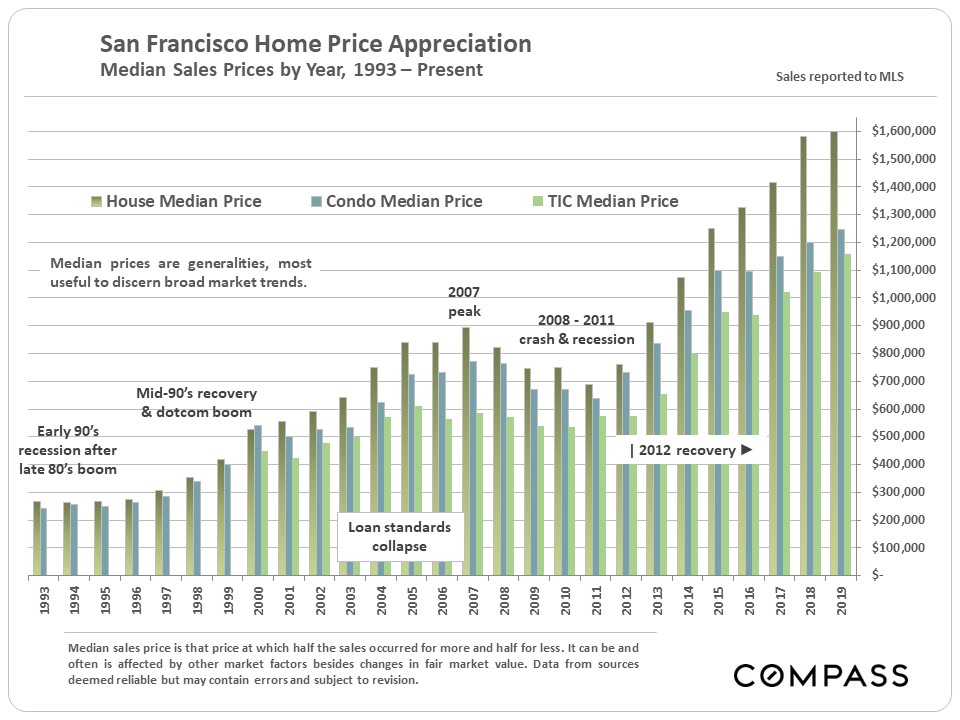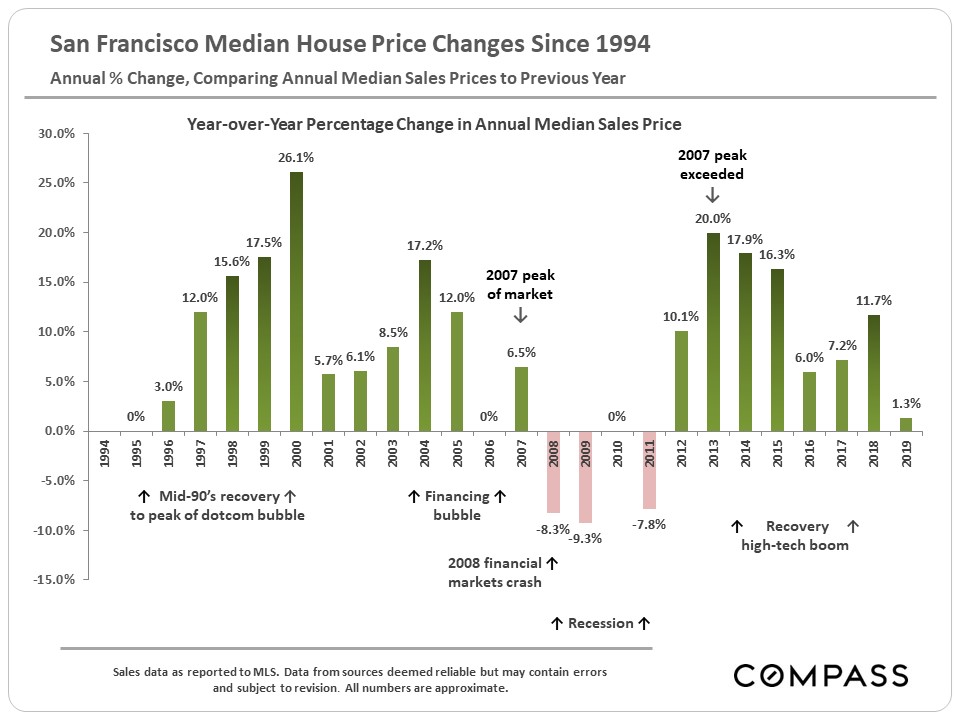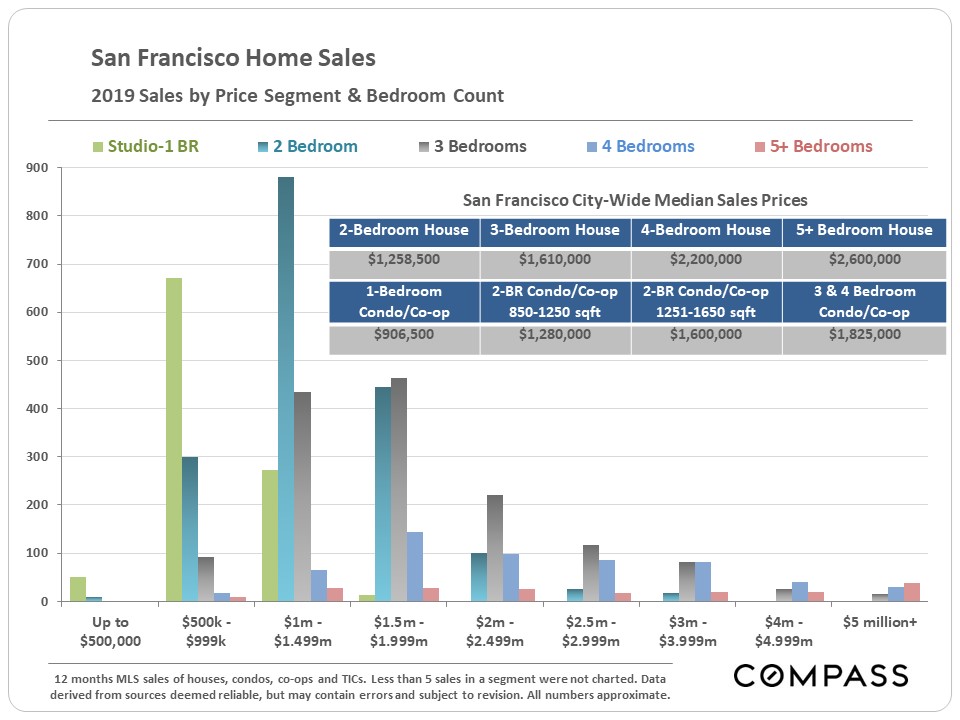 One of the big factors in SF house price appreciation since 2012 has been that fewer house owners are selling (dark green portion of chart below). If demand increases, but supply drops, that puts upward pressure on prices. Overall, house prices have out-appreciated condos over the past 7 years due to 2 factors: All the new condo construction and the fact that condo owners sell their homes more often than house owners. Both those factors increase supply to help meet increased demand.
San Francisco Home Prices by Neighborhood
Below are just two of the tables in our much longer analysis of home prices by property type and bedroom count for every neighborhood in the city. If you'd like the complete report, contact your Compass agent.
San Francisco Luxury Home
Economic Factors Affecting
San Francisco Real Estate
December 2019 Market Snapshots
Bay Area Home Prices & Market Sizes
When the media reports on the "Bay Area median home price," it's worth remembering that SF is a relatively small market compared to the big 3 counties.
Appreciation in Very Expensive Markets
Based on the calculations of an algorithm created to track long-term price changes, this next chart looks at percentage appreciation since 2012 in the most expensive markets of 5 Bay Area Counties. (In Marin, Tiburon, a very expensive, but not the most expensive market in the county, is graphed due to data issues.) This chart does not delineate prices, which vary hugely, only estimated percentage home price changes over time.
According to this algorithm, prices in these most expensive markets have generally declined from recent peaks in 2018.

Bay Area Ultra-Luxury Home Markets -
Active Listings vs. 12 Months Sales
SF has the third largest market for homes of $5,000,000+ in the Bay Area.
Market Dynamics & Seasonality -
New Listings & Price Reductions
The market is now deep into its seasonal plunge in activity, which hits its nadir in December. (This chart is updated through October. November saw its usual big drop in new listing activity.)
The percentage of listings reducing price in October - typically the peak month for price reductions - ticked up a little year over year, to its highest point since the recovery began in 2012.
Home Prices & Market Statistics by SF District
Median House Prices by Realtor District
As always, these prices should be considered very general approximations of prices in complex district markets containing homes of widely varying size and quality.
Median Condo Prices by Realtor District
Market Statistics by Realtor District
As mentioned in previous reports, market dynamics in San Francisco are often - but not always - separated by price segment as much as by neighborhood/district location. More expensive segments not unusually have somewhat softer supply and demand dynamics. However, District 5 - the greater Noe, Eureka & Cole Valleys district - one of the city's more expensive districts, has been bucking that trend in 2019.
Districts dominated by condo sales also typically have softer dynamics than those dominated by house sales.

SAN FRANCISCO REALTOR DISTRICTS
San Francisco Realtor 1: Sea Cliff, Lake Street, Richmond (Inner, Central, Outer), Jordan Park/Laurel Heights, Lone Mountain
San Francisco Realtor 2: Sunset & Parkside (Inner, Central, Outer), Golden Gate Heights
San Francisco Realtor 3: Lake Shore, Lakeside, Merced Manor, Merced Heights, Ingleside, Ingleside Heights, Oceanview
San Francisco Realtor 4: St. Francis Wood, Forest Hill, West Portal, Forest Knolls, Diamond Heights, Midtown Terrace, Miraloma Park, Sunnyside, Balboa Terrace, Ingleside Terrace, Mt. Davidson Manor, Sherwood Forest, Monterey Heights, Westwood Highlands
San Francisco Realtor 5: Noe Valley, Eureka Valley (Castro, Liberty Hill), Cole Valley, Glen Park, Corona Heights, Clarendon Heights, Ashbury Heights, Buena Vista Park, Haight Ashbury, Duboce Triangle, Twin Peaks, Mission Dolores, Parnassus Heights, Dolores Heights
San Francisco Realtor 6: Hayes Valley, North of Panhandle (NOPA), Alamo Square, Western Addition, Anza Vista, Lower Pacific Heights
San Francisco Realtor 7: Pacific Heights, Presidio Heights, Cow Hollow, Marina
San Francisco Realtor 8: Russian Hill, Nob Hill, Telegraph Hill, North Beach, Financial San Francisco Realtor, North Waterfront, Downtown, Van Ness/ Civic Center, Tenderloin
San Francisco Realtor 9: South of Market (SoMa), South Beach, Mission Bay, Potrero Hill, Dogpatch, Central Waterfront, Bernal Heights, Inner Mission, Yerba Buena
San Francisco Realtor 10: Bayview, Bayview Heights, Excelsior, Portola, Visitacion Valley, Silver Terrace, Mission Terrace, Crocker Amazon, Outer Mission , Hunters Point, Candlestick Point, Little Hollywood