Seasonality & Bay Area Real Estate Markets
Seasonality typically plays an enormous role in the ebb and flow of supply and demand within real estate markets. Below we look at seasonality from virtually every angle we can think of to illustrate its effects. In this report, San Francisco's market is used as the sample, but, generally speaking, seasonality plays out in a similar manner throughout most Bay Area markets. 
The market begins to wake up early in the beginning of the year after the doldrums of the mid-winter holiday period - mid-November to mid-January - with the number of new listings as well as buyer demand rapidly climbing, and sometimes peaking, in spring. Summer usually brings a significant slowdown, hitting its nadir in August. In early autumn, listings start pouring on the market after Labor Day for the relatively short fall selling season through mid-November - with a concomitant jump in sales. Then before Thanksgiving, activity plunges dramatically for the mid-winter period. Many listings are pulled off the market at this time to await the beginning of the new year or the next spring market.
The luxury home market is even more fiercely seasonal than the general market, and charts illustrating that segment follow the large number of charts on the overall market. The seasonality of luxury home sales plays a significant role in median sales price changes - pushing median prices up during its active periods, spring and autumn, and letting them fall when luxury home sales decline in summer and mid-winter.

Of course, general economic conditions - booms, recessions, financial market volatility, big changes in interest rates, natural disasters, and so on - can affect, and sometimes over-shadow, typical seasonal changes.
In the Bay Area, Napa and Sonoma Counties have a somewhat different seasonal rhythm due to their large second-home markets. There, listing and sales generally climb through spring to peak in mid-late summer, and then drop through the end of the year. Their charts (not included in this report) look more like mountains, climbing up and down, while other counties usually see more variations in the ebbs and flows of activity during the year.
Listings, Accepted Offers & Sales
Note that after new listings come on market, there will be, on average, at least a 2 to 3 week interval before they go into contract – even in a hot market – because of the marketing and showing period. After an offer is accepted, there is typically 3 to 5 weeks before the sale closes. Thus closed sales usually reflect the heat of the market in the previous month or so. Thus, October's sales reflect the surge of new listings - and buyers jumping on those new listings - in September (and early October).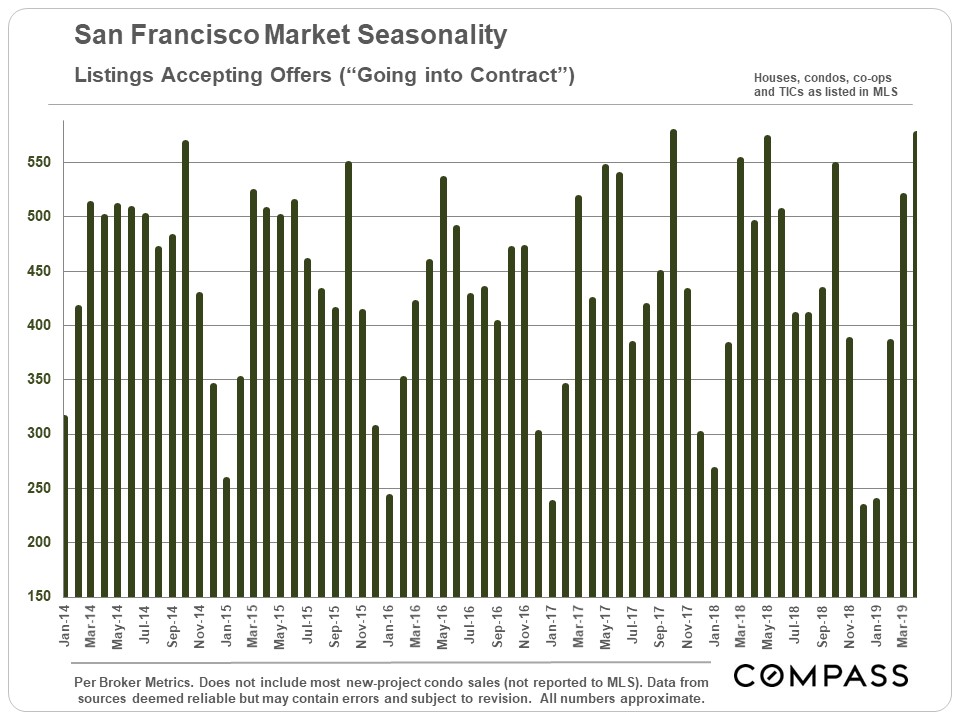 Seasonality does not necessarily mean that slower market periods - typically, mid-late summer and mid-winter - are bad times to sell one's home. That depends on a number of issues specific to the property, its location, the supply of competitive listings for sale, and the particular state of the market at that time. Listings continue to sell throughout the year.
Slower market periods can be very good times to buy: There is typically much less competition between buyers and more leverage in negotiating - the trade off being that there are usually fewer listings on the market to choose from.
Days on Market, Buyer Competition (Overbidding), Price Reductions & Listings Pulled Off the Market
Median Sales Price/Home Value Changes
The CoreLogic S&P Case-Shiller Home Price Index - graphed in the next chart - does not use median sales prices to track appreciation, but instead uses its own proprietary algorithm. But it too generally sees the largest price increases in the spring months, reflecting the heighten buyer demand during that period.
Seasonality in the Luxury Home Market
Generally speaking, seasonality in the luxury home segment is similar to that in the general market, except with even more intense ebbs and flows in activity.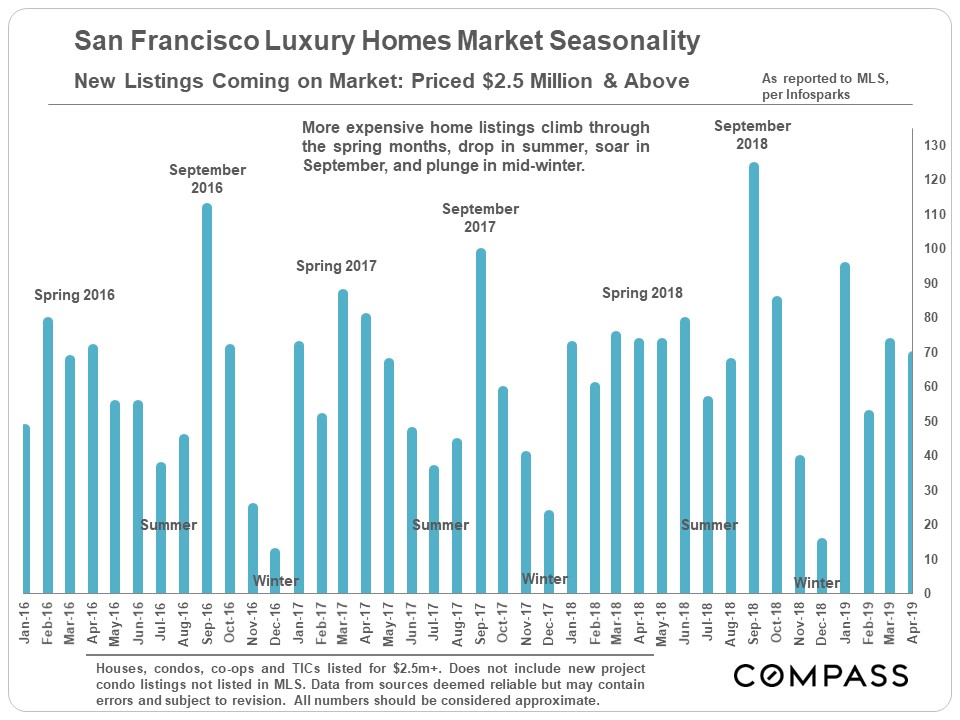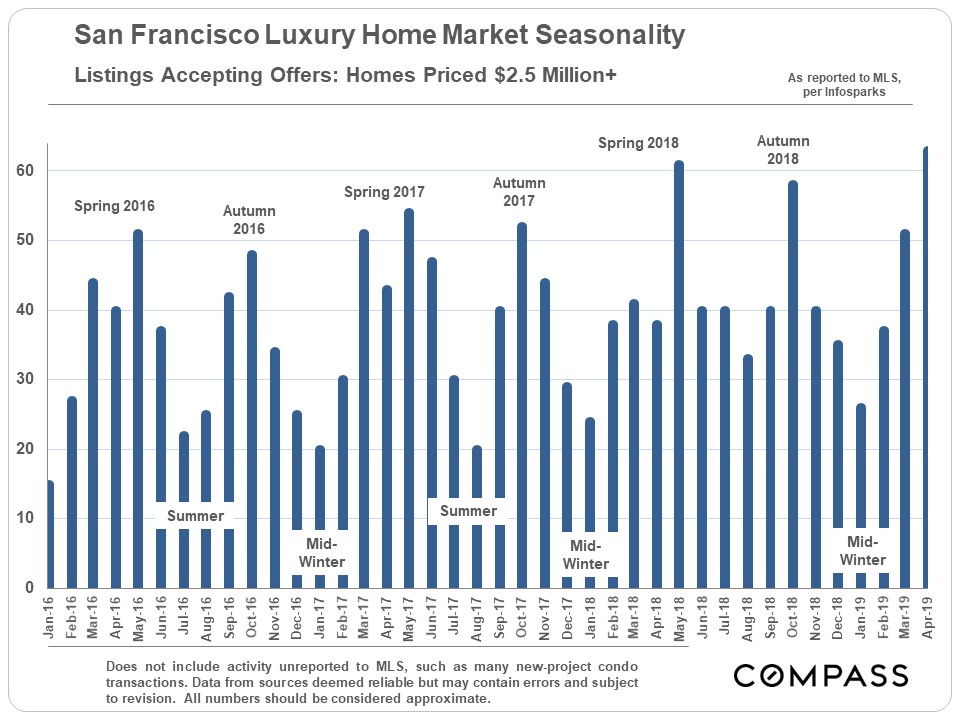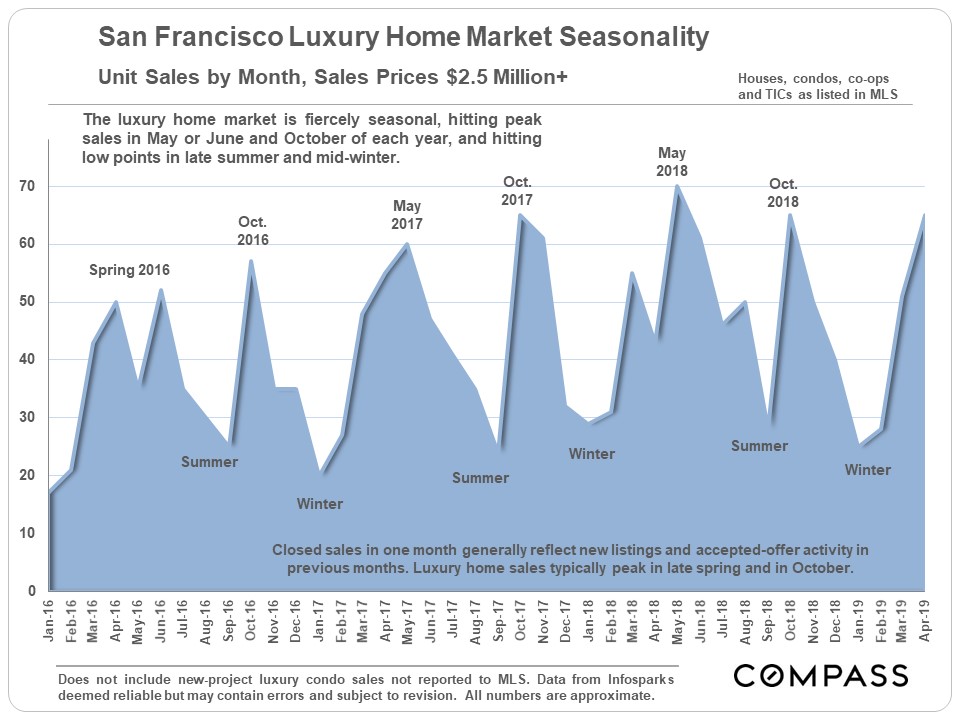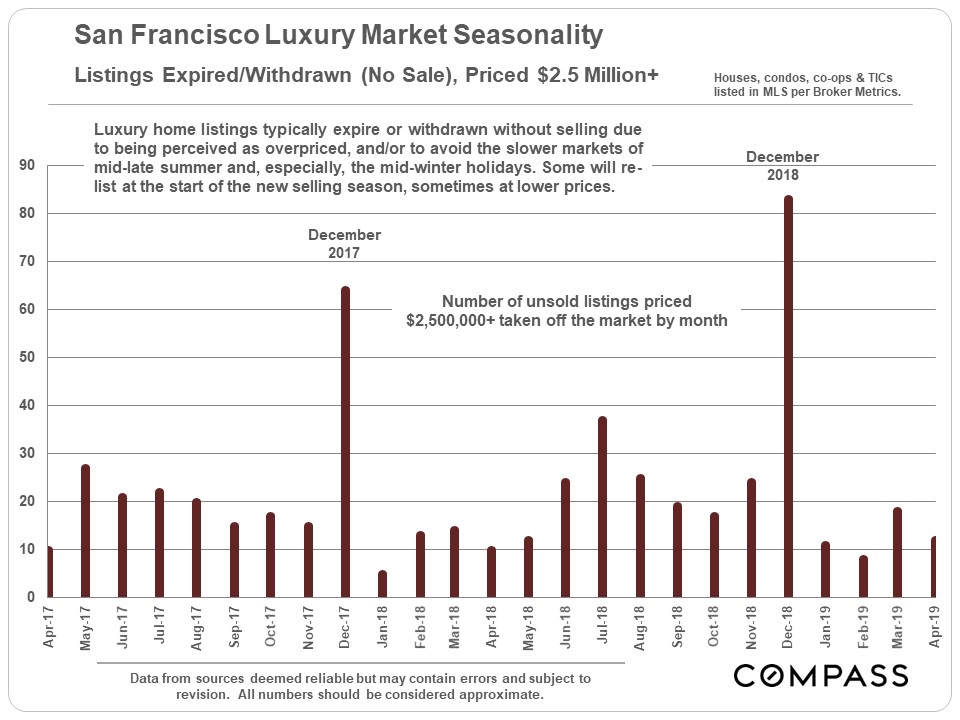 It is impossible to know how median and average value statistics apply to any particular home without a specific comparative market analysis.
These analyses were made in good faith with data from sources deemed reliable, but may contain errors and are subject to revision. It is not our intent to convince you of a particular position, but to attempt to provide straightforward data and analysis, so you can make your own informed decisions. Median and average statistics are enormous generalities: There are hundreds of different markets in San Francisco and the Bay Area, each with its own unique dynamics. Median prices and average dollar per square foot values can be and often are affected by other factors besides changes in fair market value. Longer term trends are much more meaningful than short-term. 
Compass is a real estate broker licensed by the State of California, DRE 01527235. Equal Housing Opportunity. This report has been prepared solely for information purposes. The information herein is based on or derived from information generally available to the public and/or from sources believed to be reliable. No representation or warranty can be given with respect to the accuracy or completeness of the information. Compass disclaims any and all liability relating to this report, including without limitation any express or implied representations or warranties for statements contained in, and omissions from, the report. Nothing contained herein is intended to be or should be read as any regulatory, legal, tax, accounting or other advice and Compass does not provide such advice. All opinions are subject to change without notice. Compass makes no representation regarding the accuracy of any statements regarding any references to the laws, statutes or regulations of any state are those of the author(s). Past performance is no guarantee of future results.