Sonoma County Real Estate 
Astounding Rebound in Market Activity
Despite the ongoing health and economic crisis precipitated by COVID-19, the Sonoma County real estate market has staged a dramatic recovery from the steep declines in March and April.  Buyer demand has skyrocketed, and high-end homes, in particular, have seen extremely strong sales activity. Around the Bay Area, more affluent buyers - the demographic least affected by COVID-19, unemployment, and also having the greatest financial resources - have been jumping back into the market to a greater degree than other segments. 
The first chart below illustrates the stunning rebound in demand, as the number of listings accepting offers in June 2020 soared far above that of last year. 
The Bay Area markets with the largest year-over-year increases in the number of listings accepting offers in June 2020 were the 4 "outer" counties of Monterey (up 61%), Santa Cruz (58%), Sonoma (47%) and Napa (37%). (Of the 4, Sonoma is by far the largest market by sales volume.) They also have among the lowest population densities in the Bay Area. The more urban counties saw modest y-o-y increases: San Francisco (6%) and Alameda (7%).  This is a fascinating shift in the market. 

These 2 charts below reflect the tremendous increases in sales activity in higher home-price segments. 
Sonoma County Real Estate
Sonoma County Real Estate Market Begins to Bounce Back - Slowly

Sonoma County Real Estate & the Coronavirus
The first thing to remember is that there is a time lag - usually 3 to 6+ weeks - between a new listing coming on market, an offer being negotiated and accepted, and when the transaction actually closes sale. This means that almost all of the sales price data we have, as of the first week of April, still reflects the market BEFORE the shelter-in-place rules went into effect. In virtually all Bay Area counties, March median sales prices were quite strong. 
This report will look at the effect of the crisis on supply and demand by reviewing week by week statistics, at sales price trends reflecting the market before the crisis, and longer-term trend data to give context to how the market typically performs at this time of year. Spring is usually the most active selling season and often sees the highest median sales prices of the calendar year, due to both the level of buyer demand and the seasonal surge in the luxury home market. (A higher percentage of luxury home sales pulls up the overall median sales price.) 
We do not know how the crisis will ultimately play out, depending as it does on so many, rapidly changing, socio-economic factors.
Median Sales Price Trends
These first 3 charts review median sales price trends in the short, medium and long-term. March and first quarter prices generally reflect the pre-crisis market. 
Shelter-in-Place Effect on Inventory & Dealmaking - by Week 
The following 4 charts detail the plunge in listing and accepted-offer activity, and the surge in listings being pulled off the market by sellers, over the past 4 weeks. Typically, at this time of year, the first 3 charts would be seeing steady climbs over February numbers, and the 4th chart would have a very low, flat trend line. Though the numbers are way down, some listings have still been going into contract. 

Normal Seasonal Demand Trends by Month 
This is the time of year when market activity usually soars.
Average Days on Market by Month 
Those listings that did go into contract in March - a much lower number than normal - apparently did so quite quickly after coming on market, presumably seizing the attention of buyers despite the crisis. Or the buyers and sellers may already have been in the midst of negotiations when shelter in place rules began. 

Home Sales, $1 Million+, by Quarter
Higher price home sales usually start climbing rapidly in Q2. 
Supply & Demand, Homes $2 Million+ 
- Sonoma & Napa Counties by Week   
Home Sales & Values by Lot Size 
Sonoma County Real Estate
There is a lot going on in the world right now and we won't pretend to know how things will turn out or affect the local real estate market over the next few months. In the meantime, this report will look at the most recent data available, though the impact of the wild volatility in the financial markets and the unfolding situation with the coronavirus has yet to show up in reliable statistics. Typically, the spring-summer selling season is the most active of the year. 
One positive for real estate is that mortgage interest rates hit a historic low in early March, as illustrated below, and rates play a huge role in housing affordability. 
Short-Term & Long-Term Trends 

in Median Home Sales Prices
Mortgage Interest Rates Hit Historic Low 

Home Values and Statistics by Market 
Selected Market Indicators 
These next 2 charts illustrate both market conditions, but the large role seasonality plays in supply and demand. 
Sonoma County Real Estate
Generally speaking, after years of solid appreciation rates, annual 2019 Bay Area median home prices went down a little bit, went up a little bit or basically remained unchanged as compared to 2018. Sonoma County was one of the markets that ticked down a little - but made a significant recovery from the slowdown that began in mid-late 2018, after the very hot market of the previous spring. 

For 2020, economist Ken Rosen at UC Berkeley has said he expects the Bay Area median price to remain basically flat, within a general range of up or down 2% - in other words, similar to what happened last year. We can't predict the future, but that certainly doesn't sound unreasonable, and happily avoids the sensationalism of many other media-grabbing forecasts.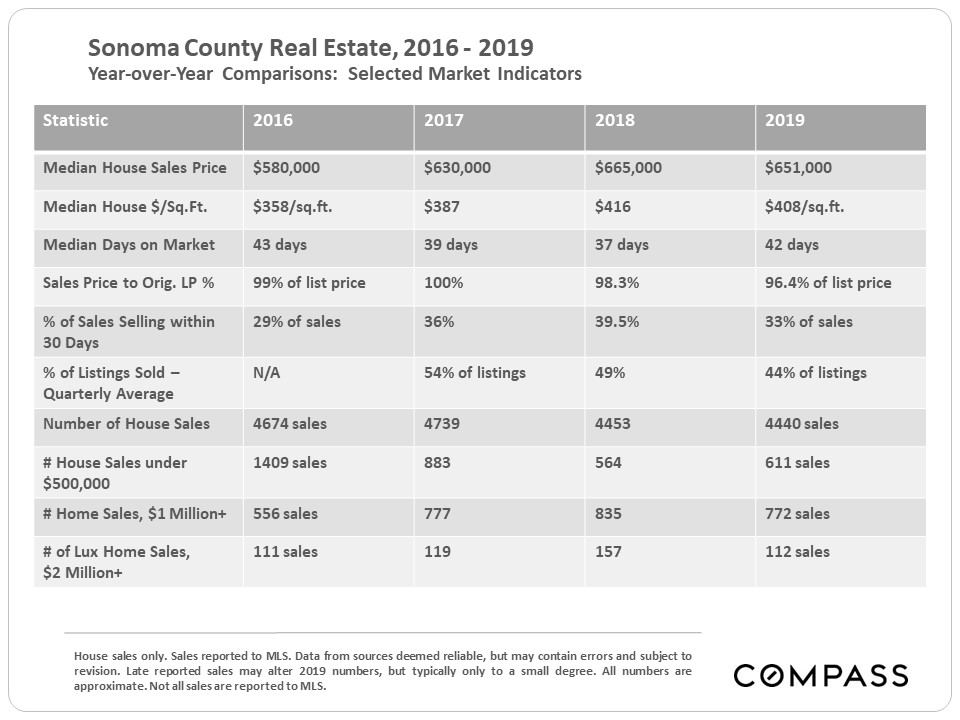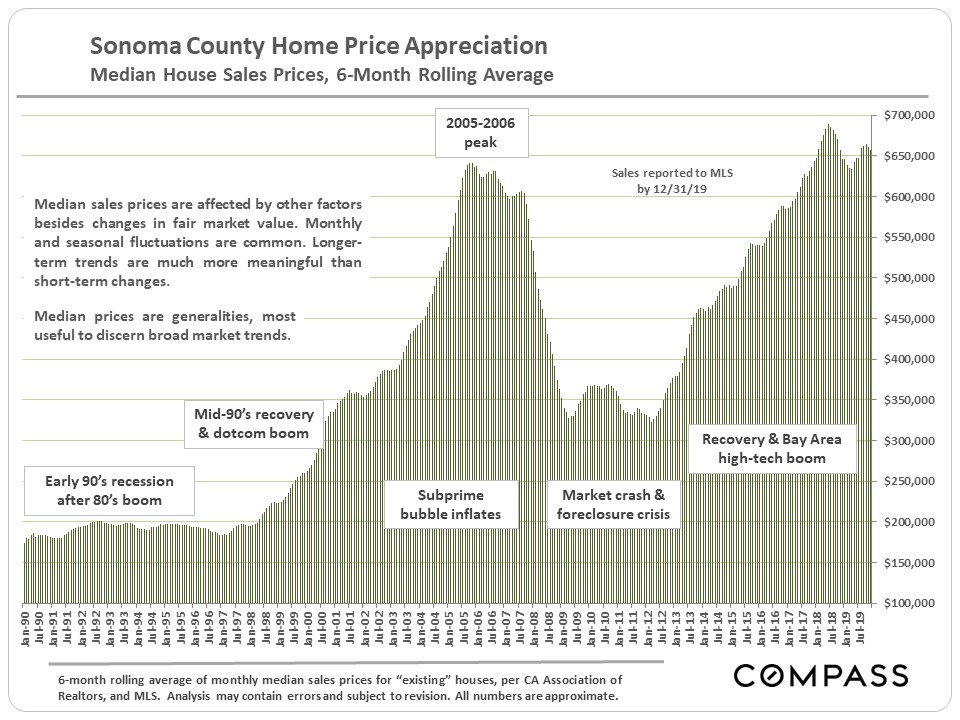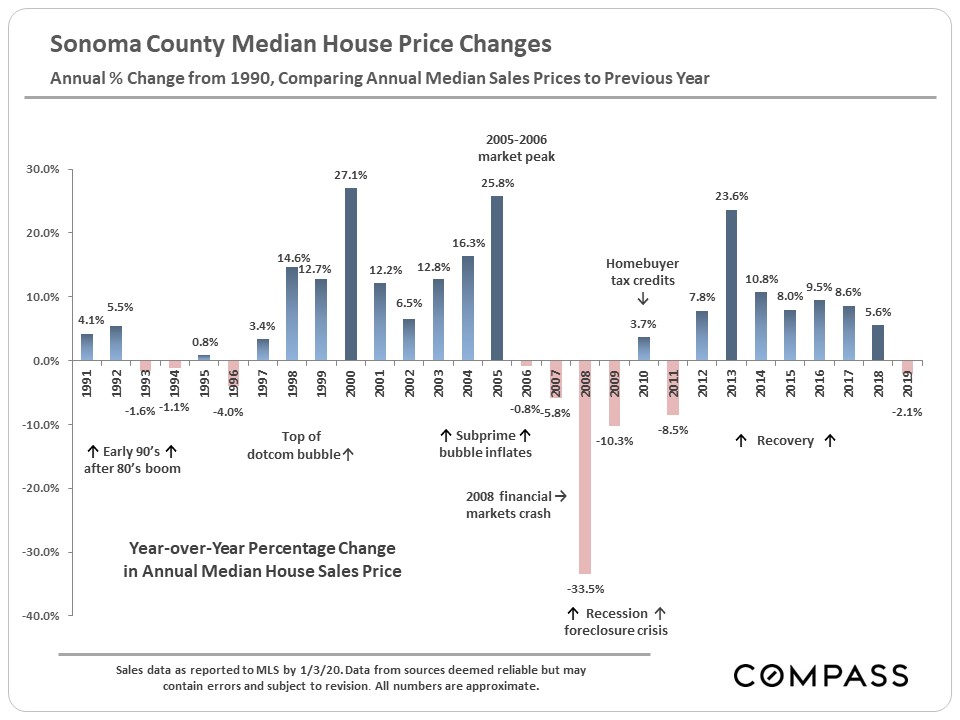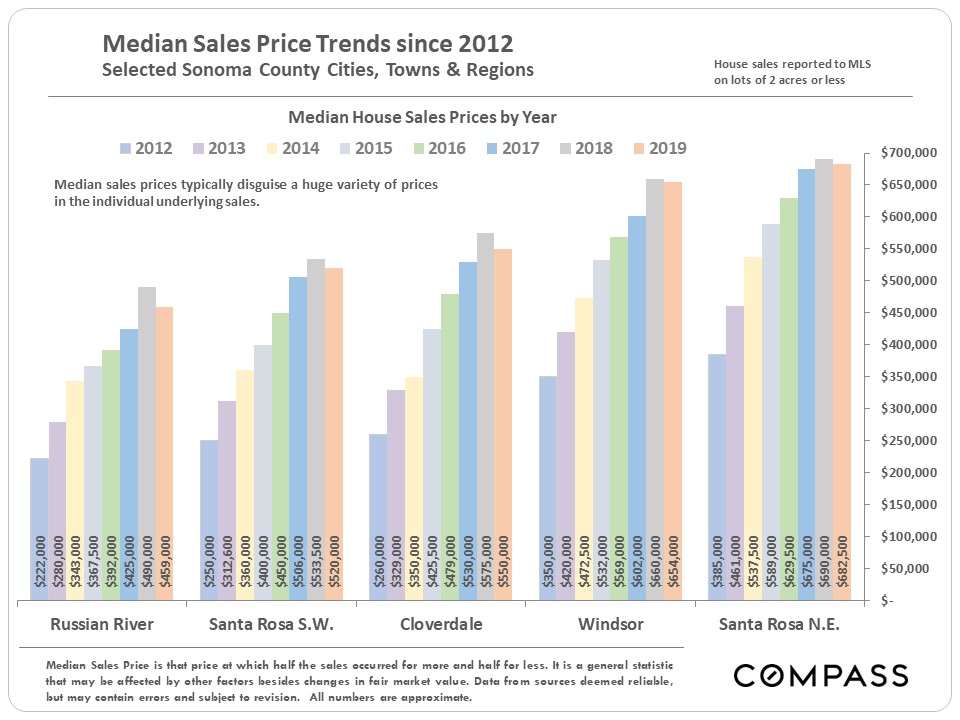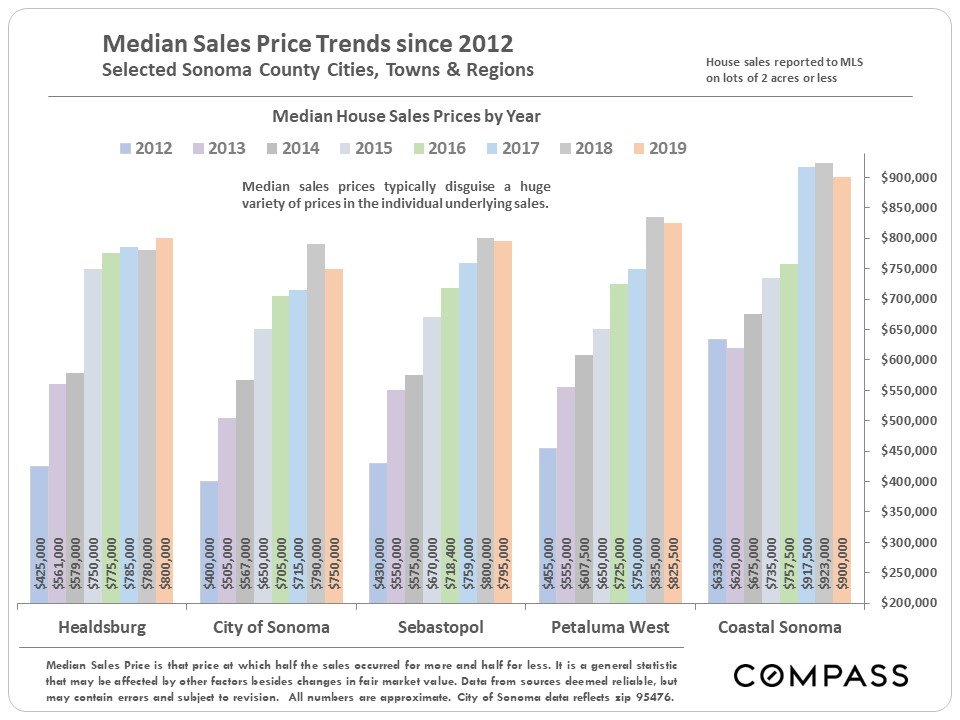 Median sales prices are generalities and not exact measurements of changes in fair market value. They can be affected by a number of factors and are sometimes subject to anomalous fluctuations. How they apply to any particular home is unknown without a specific comparative market analysis.

Economic Factors Affecting 
Sonoma County Real Estate
December 2019 Market Snapshots
Bay Area Median Home Prices 
Median House Price Trends since 1996 - 
These 2 charts are estimated calculations of median home value trends by an algorithm created for that purpose.  As always, these numbers should be considered very general approximations of prices in complex markets containing homes of widely varying size and quality. As is the case in most Bay Area markets, the algorithm calculated price declines in many Sonoma County communities, down from recent peaks.

Median Dollar per Square Foot 
& Median Home Square Footage
Due to the large drop in interest rates since Q4 2018, and the small drop in median home prices, housing affordability ticked up significantly in recent quarters - as was generally the case around the Bay Area. This chart illustrates the percentage of households able to purchase a median priced house, with 20% down and a loan at prevailing interest rates. 
Bay Area Markets for Homes of $5 Million+
This chart compares the number of $5m+ active listings in October 2019 to the total number of $5m+ sales reported to MLS in the 12-month period through October.
Market Seasonality: New Listings 
The market is now deep into its seasonal plunge in activity, which hits its nadir in December. (This chart is updated through October. November saw its usual big drop in new listing activity.)

Selected Market Indicators by City
The big 2 factors defining supply and demand dynamics in Sonoma County cities are location, of course, and the general range of home prices within the community. Some of these communities contain homes across a wide range of size and quality, especially the biggest market - the city of Santa Rosa. Whether the specific market sees a high percentage of second-home buyers is also a significant factor (as a subset of the location issue).
Price Reductions by Month 
The percentage of listings reducing price within the month was well down from the big spike of last year, but still running higher than previous years.
Sonoma County Real Estate